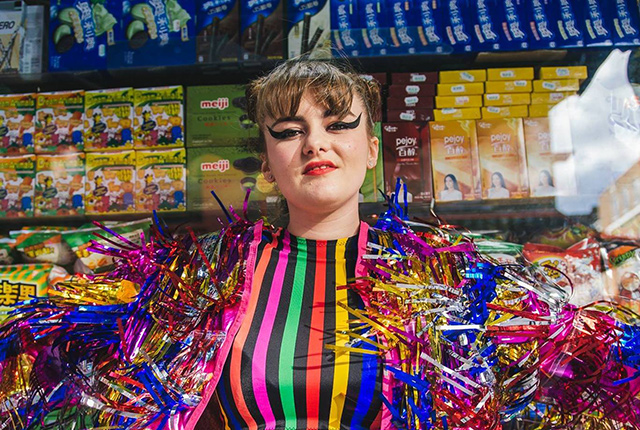 DOLLIE DEMI. Photo Credit: Unknown
Whether you after sweaty mad-rock, sassy pop, or you just really fancy some exclusive vinyls with a bunch of ace bands, this week has got you covered. Oh, and you know how ever so often there is a week where the universe implodes and every gig is at the same venue. Yeah, that's happened this week. And I pinky promise it's not cos of all the pizza I eat from there. Pinky promise. 
MONDAY
HAGGARD CAT are one of the most insane bands you'll ever see live. That may be an opinion, but it's one that's mutually shared by 98.7% of people that have seen them in their many previous forms. Now – with just two of 'em, Matt and Tom are making balls to the walls mental-rock that's bloody ace And BIG. And they're bringing it to RT to celebrate the launch of their debut album. Matt will probably climb on the ceiling. Tom will probs throw a drumstick at your head. You will definitely sweat. And it will defo be one of your favourite moments of the week. Maybe even the month. Or year. It'll be sick, basically.
Monday 16th April
Rough Trade Nottingham
Price: Entry free w/ purchase of album.
Doors: 7pm (includes album signing after live set).
WEDNESDAY
Speaking of big characters – DOLLIE DEMI is full of sass, will probs leave your ears and eyes dazzled, and will almost definitely be wearing one of the coolest jackets you've ever seen. Somehow this is Dollie's debut Notts show (despite being a Nottingham girl), so it's a proper spesh one for her. AND she's launching her latest single at this gig too – 'B Ur Gal', as sassy as the text speak would have you expecting it to be.
There's a killer support lineup too. Kicking things off is RACHEL BURBRIDGE who definitely isn't Dollie's sister. Definitely. Joining J SOUL for some beaut acoustic vibes. Then there's LUCY ALEXANDRA who has been bossing the catchy Singer-Songwriter tip for years now. And pre Dollie taking to the stage, the fabulous BOY BYE, who make Alternative Ambient Pop, and their bio says they're 'car dealers from Romford'. Wonderfully random. Nice1.
Wednesday 18th April
Rough Trade Nottingham
Price: free.
Doors: 7pm
SATURDAY
This weekend sees Record Store Day return to the UK, yeah, we can't believe it's been a year either. As always, Notts is out in force, with tons of exclusive records for sale (obvs), but more importantly, a ton of awesome live music from local acts.
There's shizz going on all over the city, but the live highlights include Cobden Chambers who have live music courtesy of I'm Not From London, and Rough Trade, who have their venue full of live music pretty much all day. And let's face it, there ain't no better feeling than nabbing that exclusive 7inch you've had your eyes on for months. 👀
Saturday 21st April
Multiple Venues across Notts City
Price: free
Doors: differs per venue
Yours in Love of New Music,
Sam Nahirny x