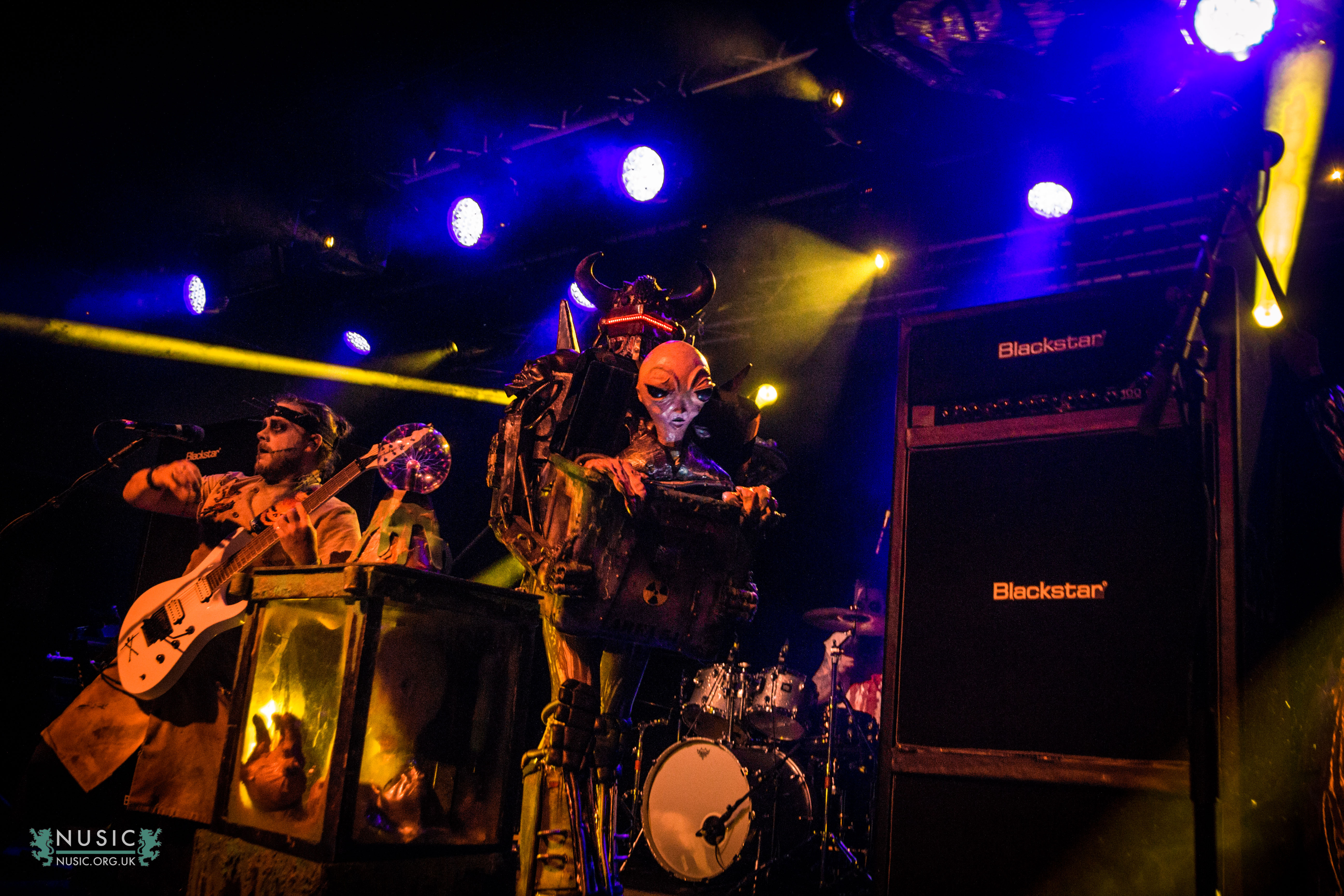 Ahhh Beat the Streets – you are a good egg. A day full of the best thing in the world (Notts music, obvs), and all profit goes to charity – specifically, helping the homeless. Yeah, bar, merch, tickets (obvs x2) all going towards Framework.
So, we all basically had an awesome excuse to party on a January Sunday and have no guilt whatsoever. NICE ONE BTS.
We started our day on Talbot Street – in the new swanky Rock City basement – sorry – Beta. Kicking things off were DIFFERENT LIFE COLLECTIVE – a bunch of Notts dudes who bring together an eclectic, and well good fusion of Hip-Hop, Punk, Soul and lots of other lovely things. Pair that with more energy than that stage has probs ever seen at 1pm, and you're off to a good start.
We then legged it to Stealth downstairs to see YOU WANT FOX (trust us, our Fitbit's got a good working today). Full of all the sass, bad-assery, and catchy-hooks you could ever want, YWF smashed it to a v rowdy (in the best way) room. And then we legged it back to the Talbot Street massiv – but this time the legendary main stage, this time, being graced by CHAI. Fronted by Chai Larden (see what they did with the name there??!), it's a proper soulful experience. A huge voice. Similar to YWF, sass radiating out of every part of Chai as frontwoman. And, some well intricate and ear-raising musicianship from her fellow band members. Ya could tell they were absolutely loving it too, which always makes it better.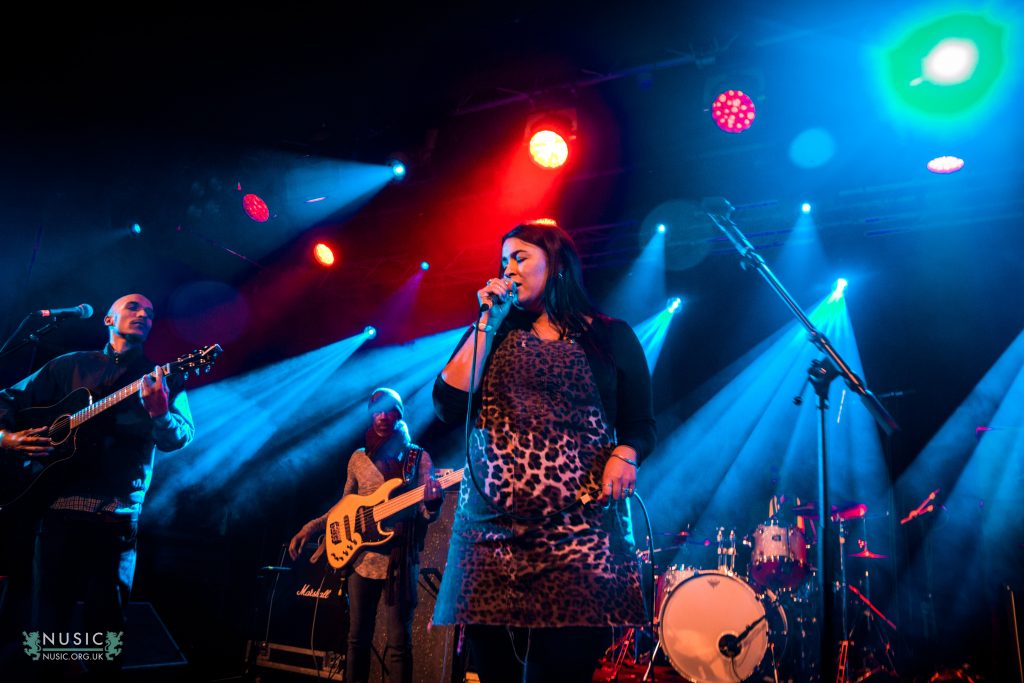 Over to The Bodega this time – we start downstairs and soak up the joyous Pop-Soul of ABII. Just her and a guitar, and her humongous personality – she controls the room, with some well catchy songs, plus some quite witty self-deprecating humour. Ahhh. We then go fill our stomachs – but we need quick, oh hello there Pret a Manger, what an awfully nice ham and cheese sandwich you have. BACK TO BODEGA – this time to see the solo performance of DREW THOMAS – who ya may recognise from some ace bands from the past few years. Now, he's armed with a keyboard (a well fancy one at that), and has crafted a bunch of heart-tugging, yet somehow still heart-warming Piano-Pop songs that have us swooning just enough to look like we've been on the booze since 1pm. Disclaimer: we haven't. xo
We then head down into the dark depths of Stealth again – this time to see Electro-Pop duo KOMINO. Stacked with catchy bangers on bangers, it's been a while since these two have stepped on the live stage. Luckily – they do actually remember how to play their instruments – and they do it really well in fact. There's some bass-y slow-burners (ya know, the ones that almost make ya bite your lip mid-bassface), as well as some out and out funky Pop that has ya wanting to shake what your mama (and papa) gave ya.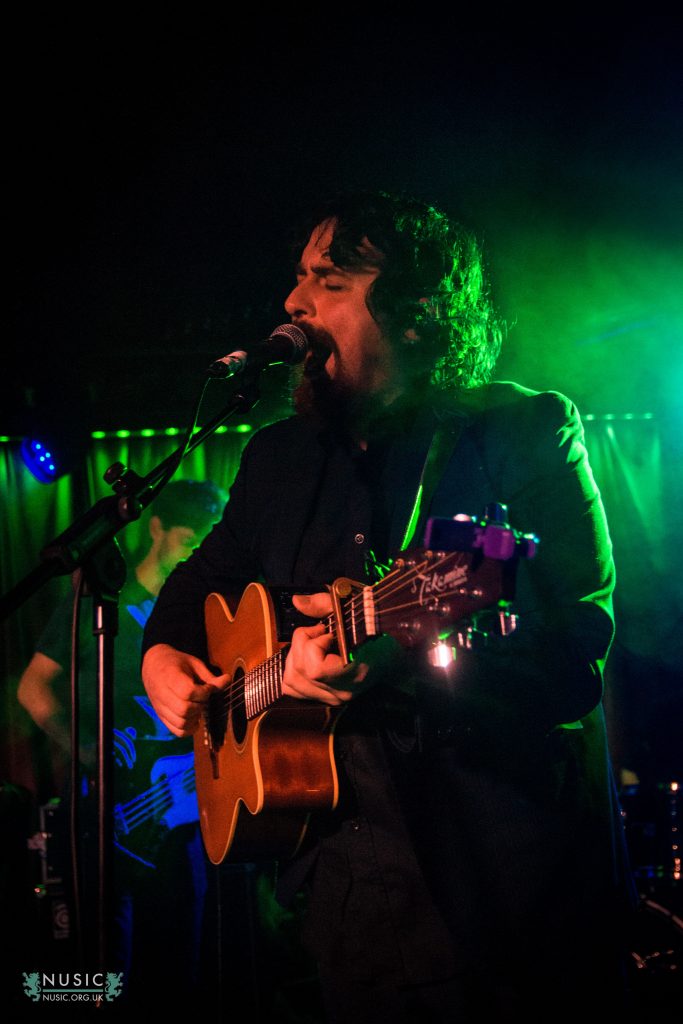 Through to Beta – this time for the foot-stomping goodness of 94 GUNSHIPS. And dayummm is it good goodness. A rammed out Beta agrees – as they have the whole crowd marching, and singing along. Guitar solos, and lots of anthemic choruses. Tastyyy. We then confuse our minds (again, in the best way possible) as we enter the true experience that is EVIL SCARECROW in Rock City main hall. Here's the headline, Metal with bits of Pop, and giant Aliens and Robots taking over the stage. Oh, and a ballad about losing one of their band members in Antartica. Obvs. Musically – incredibly tight, visually – incredibly stunning. And… yeah, I mean, just yeah. Magic.
Rescue Rooms up next to have our hearts warmed by the beautiful sounds of KETO. Leah, paired with guitar and violin – that's all there is on this stage, but wow – it's truly haunting. Her voice, continuing to pierce through any other sound in the venue. Beta has TOWERS up now – who, as we enter are half on the floor with the attendees. Yeah, guitarists and bassists just headbanging amongst ya mates, yano. SO GOOD. Vocalist Holly basically doing acrobatics on stage (well, both physically and vocally), and all in all just having a bloody good rockout. YES.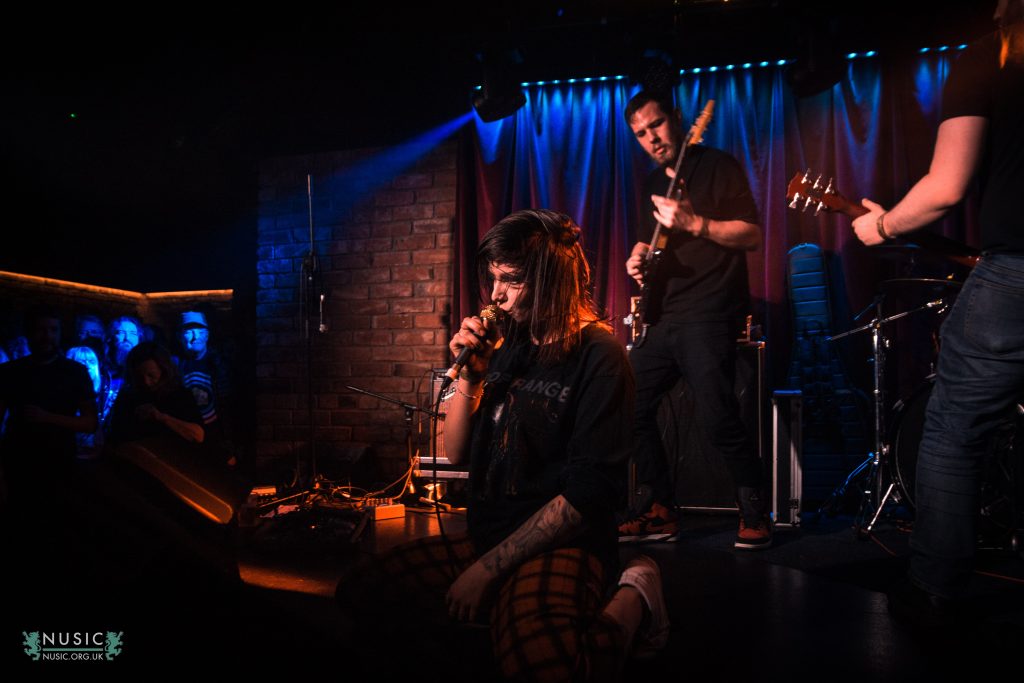 Off to Bodegadegadega. Now we're seeing KELSEY AND THE EMBERS. The former FSN Finalist has changed her sound up a bit – now a bit more Country, but still with all the beaut Acoustic-Pop touches that Notts has come to love. And her voice – still a belter. We then see LACEY destroy Beta with their anthemic Pop-Rock. Jeeeeez these boys know how to write a big hook. How they're not world famous yet idk tbh. Lots of dancing. Lots of woah-ohing. Swish swish.
We then catch a quick bit of THE AMBER HERD's beaut melodic Rock in Rescue, with, psst, check this, added projector visuals! Shouldn't matter – but defo added to the experience. We then go see the Pop-hook superstars in BROTHERHOOD over on RC's main stage. As we came to know through FSN – these gents really do know how to prick up your ears and have a melody dancing round every part of that head of yours.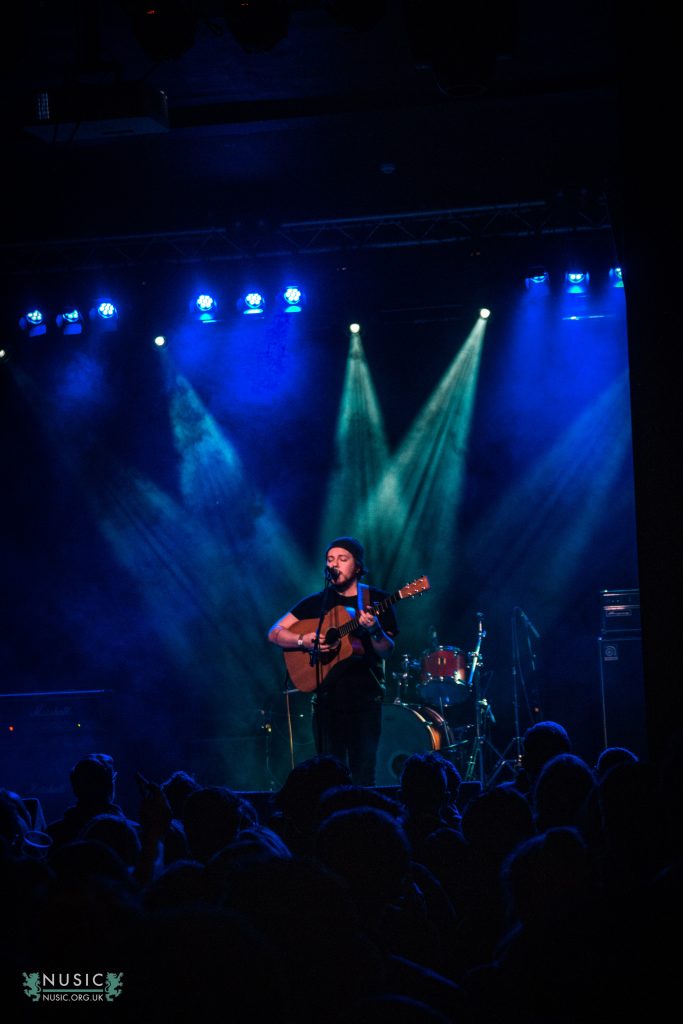 Off to see super secret, but not secret cos it got announced a few days ago, special guest – SAINT RAYMOND. On his one, but still shutting up Rescue to sing them dayumm catchy songs of his. All of the hit. Done incredibly well. And a little sprinkling of the new new stuff too. GIVE US MORE SONGS CAL. Pls.
We then get our faces melted off by HAGGARD CAT. Now – everyone who's seen HC (or HECK or BABY GODZILLA) knows that the live shows are electric. But – wow, a rammed out basement, with these two – summat special. Crowd surfing. Walls of death. Feedback and screams aplenty. And god is 'American Graffiti' catchy. They're proper rockstars.
And then the final act of our day / night – the legendary HARLEIGHBLU closing off Rock City main stage. Sass-queen, soul-queen. Groove-queen, she's got it all (as have her band). Dominating that stage with all the swag and funk-y goodness we've come to expect from Harls over the years. She acknowledges that 'this is a big moment' for her. And then – she does it more than justice. Nice one Harls.
And nice one BTS – another year, another ace mix of everything Notts is awesome for. Beaut people. Ace vibes. And of course – most importantly, loads of sick Notts music, all for a good cause. Hyped to see how much you've raised this year!
You can still donate to the cause HERE.
Yours in Love of New Music,
Sam Nahirny x