Ahh Hustle, you're a bloody special one, aren't you?
You make us so happy, tired, and so damn overwhelmed – you're basically a really good orgasm in musical form and we are so grateful for that orgasm.
Okayyyy then why was it so dreamy – well, it's basically every musician in Notts – playing basically every room that has a roof (some without, actually) in Hockley, and its all for charity. Soooo, yeah that's why bish.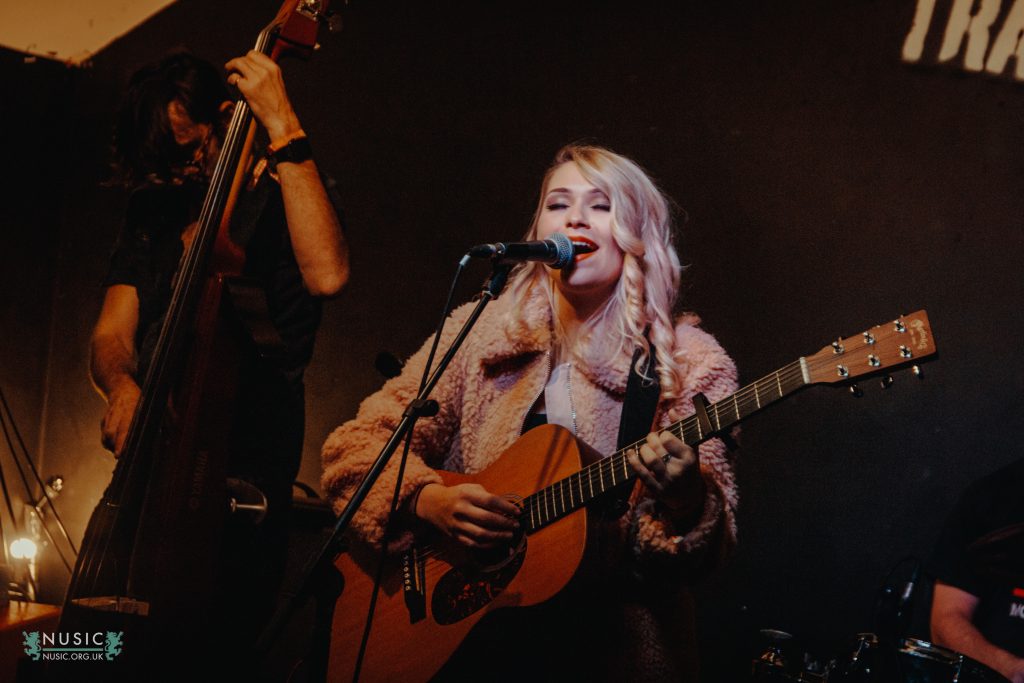 We started our journey at Rough Trade to see MOLLIE RALPH with band. Mollie is a sick performer on her own with that belter of a voice, but her new band just adds another level that takes ya from 'this is sick' to 'holy shit this is super sick'… ya know what I mean. Captivating. In the best way.
We then stumble across the 'secret set' from UNKNOWN ERA in Revolution. Yep, Revolution. Weird as shit. But bloody wonderful. Unknown are just what ya need to get into the Hustle spirit with their blissfully mad antics, and crazy catchy tunes. Skanking to 'Read Between the Lines' whilst passerby's look on confused – priceless.
We then ran off to Brewdog to see A-TOTA-SO, the instrumental three-piece that are a bit intense, a bit enticing, and very pedal-y. And those -y's all go together to make a proper engaging live performance.
Off to The Angel now to try and see BUS STOP MADONNAS, but… err, they look a bit different. Very different. And then we realise there's been a schedule change and its actually DISTANT BLUE on now. Not quite sure how we worked that out – cos it was so rammed it was like bloody Bieber was in the building, but from the middle of the tall-people mosh, their Pop-Punk went down a madness. 
Off to The Bodega this time… for JIMI MACK… right? No. LINEUP CHANGE ALERT. But, errr, the guy who was on stage actually looked a bit like a younger Jimi (psst, that's a compliment). We confess we didn't catch his name (let us know homie), but he sang some beaut soft Folk songs with a delicate twang and it calmed our racing minds for a minute and for that reason we'll always love you Mr Not Jimi Mack.
STOP PRESS: 18:00 29/10 – We have found our guy! It was JOSHUA TURNER. Shouts Josh!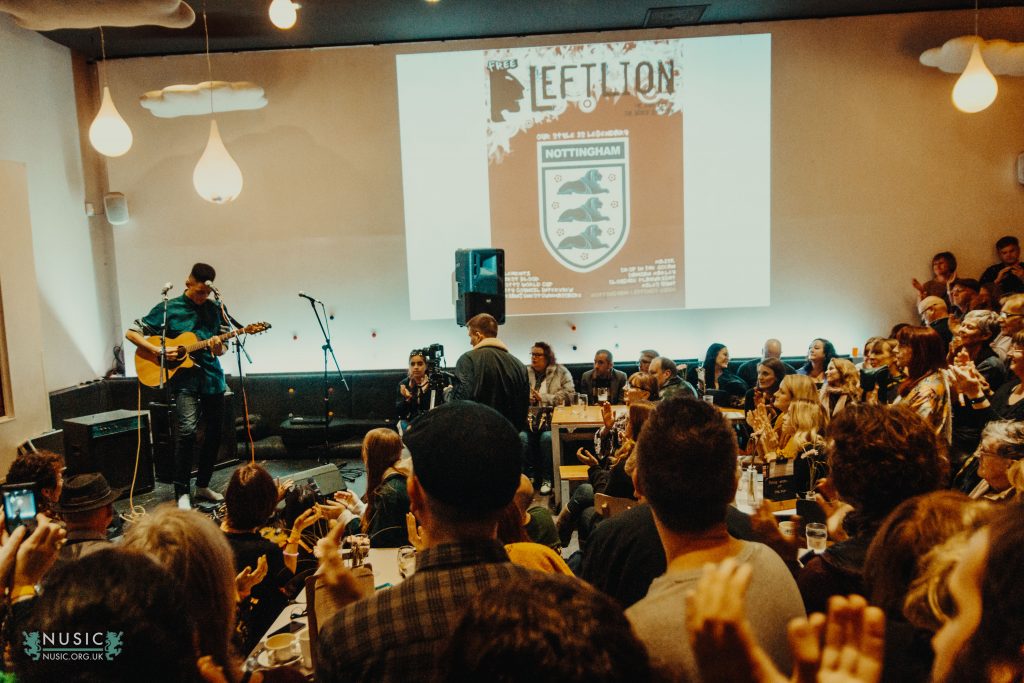 Ahhh – you know what is one thing you can ALWAYS guarantee. No matter if you're having the best day of your life, or a really really wank day, ROB GREEN will always make you feel better. His energy. His charisma. His TUNES. The boy is like a happiness shot in a very talented tall package, and the Broadway senses that I reckon, considering from the second he's on stage they're going mental and shouting lovely things. He shared a few songs off the forthcoming debut album (ooooh!) and they sound ace. GIVE US THAT ALBUM ROB.
It's Das Kino time – yup, one of the Hustle's best qualities, Notts muso's in random places. This time a pizza and ping pong bar. We're here to see LIA WHITE who serenades the room with her incredibly soulful vocal, and… dem songsss. She got choruses for days man! We then stick around for a few songs of the belter that is CHAI LARDEN (What. A. Voice.) And then we are off to…
Nottingham Contemporary. Kicking things off we have REMY – the singer-songwriter that…. Ugh, did someone make him in a lab? Funny, charismatic, a silky smooth voice. And like five songs that we can't stop singing. Stop being so good Remy – it's not fair on the rest of us.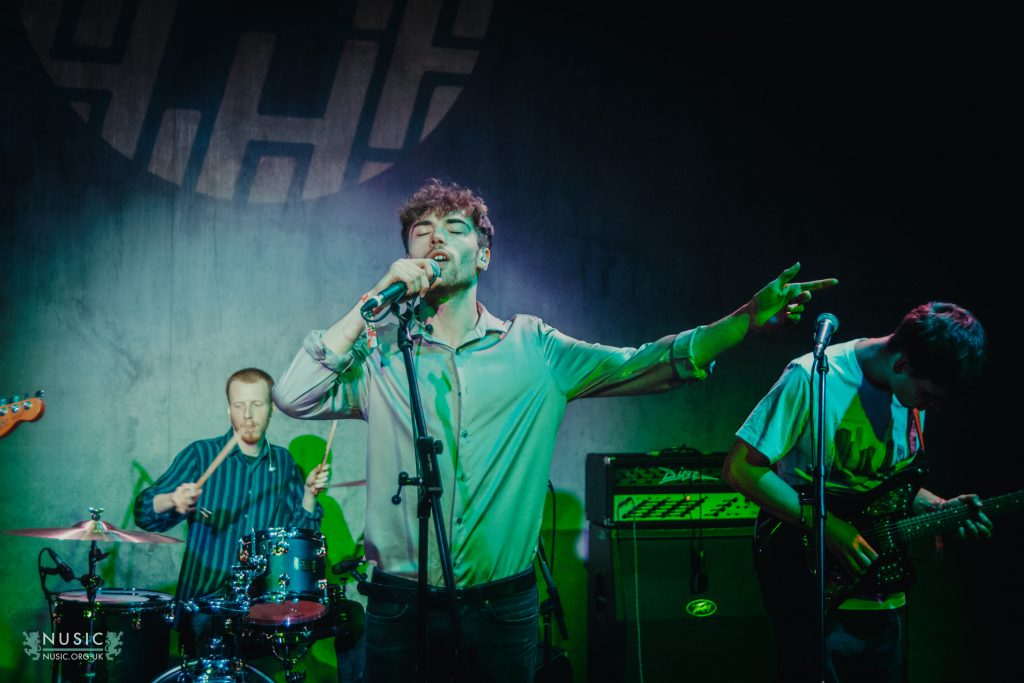 We then eat some food… and we're actually straight back to Contempreh to see MY PET FAUXES. A band we've been excited to see for ages. On record, they've got these mega catchy 1975-esque Pop bangers… and good news gang – they are just as awesome live. Songs that make ya wanna dance even though you know that's a bad idea. And frontman Aaron (despite some sound problems) is a ready-made rockstar. Swag. Personality. Oh, and the voice – ya know that's quite a key bit.
Back to Hock-a-lock-ley for a bit of a dance in the Samba parade (which will haunt my nightmares for a good few nights), and then into the new venue Metronome – for the return of the UFO ORCHESTRA. A 60 piece orchestra. With Notts musicians. YEAH BOY. Rammed out, queues round the corner, and for good reason. It's an incredible experience. Notts musicians take up vocal duties, including some v special moments with ROB GREEN, NATALIE DUNCAN and NINA SMITH. Wowzers.
We then go and have our hearts melted off by LAURIE ILLINGWORTH at The Bodega, as does the rammed out room – peeps have clearly caught on that he's basically a musical dream, BUT WHILST YOU'RE AWAKE. And then we leg it to Hockley Arts Club to see the live return of ESTHER VAN LEUVEN. With some incredibly talented musicians behind her – she delivers some big, but delicate atmospheric tunes. With the voice that is undeniably special.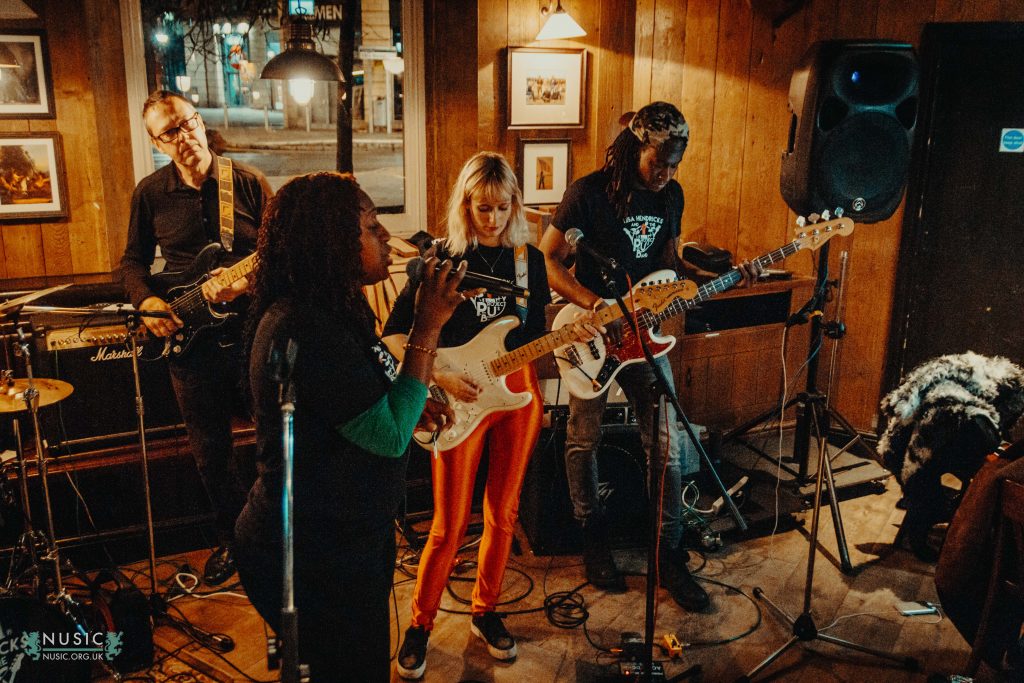 RANDOM VENUE TIME – Red Dog Saloon – yeah the burger place – to see LISA HENDRICKS AND THE PROJECT-US BAND. Yeah, weird. BUT WONDERFUL. Happy, joyful vibes. Catchy tunes. And a smile that makes all your problems go away. Beautiful.
Our minds are then blown as we head to The Bodega upstairs – to see PETEBOX v MR SWITCH. Both incredible artists in their field. And together, you've basically got a musical theatre show which mixes Eminem, 70s soul, techno and more. And all you'll hear is 'this is mental!' or 'how does he do that with his mouth', often followed by 'that's what she said'. If you ever get the chance – get involved.
We then said we were going home – but got distracted by JONNY OLLEY and his band bringing the bluesy guitar madness at Jam Cafe. Husky brilliance. We had a dance. Had a bop. And then it was time to write this review, edit 1000 photos, and 60gb of footage. With a McDonalds on hand, obvs.
Hustle – you don't need me to tell you this – but I'm going to anyway. You're a  real special being. A lovely, huggable, warm-hearted being. We love you. Notts loves you. Love. Love. Love.
Right I'm off to sleep till Beat the Streets.
Yours in Love of New Music,
Sam Nahirny
x