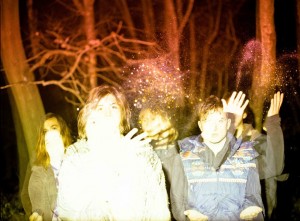 SWIMMING is a band that is certainly making waves right now. iTune's Indie Spotlight even made Neutron Wireless Crystal (off the new album) its single of the week! We know they're great, Film4 seems to know it too, so our predictions of a Notts Number One are surely imminent. Frontman John Sampson takes Mary Ann Pickford on a journey around Nottingham to talk about their newest album Ecstatics International and the unique sound and musical ethos of the band.

So where abouts are we, John?

This is Random Recordings studio where we did a lot of the music for the Ecstatics International album. I think there's a big disconnect [between the way the building looks and Ecstatics International] because the album is kind of out there. If you were to look at that [the studio] you'd associate it with maybe gritty British music that's been around recently. It just takes you to another place and that's why I thought it'd be nice to show you some of the space we'd been recording in. Then we did six or seven studios around Notts, Mansfield and Kirkby.

Keeping it very local then, that's great. How was it recording the new album?

It was amazing. It was over quite a long period of time, like little pockets of intensity. I write quite a lot just at home on my own. And that'll be late night sessions when you can't sleep and you get a loop pedal out and come out with ideas, and sort of make little song saplings on the computer. And then you just kind of take them into the studio. We're [the band] all engineers in different places and so it was just choosing places that we felt comfortable in for each different song or different bit we were recording. Then we got our own little set up in Kirkby.

And so we had just enough equipment 'cause there's no budget for this at all. It's interesting getting comparisons with some of the albums that it's been compared to and some of the bands that it's been compared to. There wasn't much money behind it. People get in touch asking 'which producers have you used?' and expect it to be done in big studios in London, which is quite nice but we say 'oh no we did it in Kirkby on a laptop'.

Occasionally we had some nicer gear or Random's got some nice gear we used. We had the right blend of lo-fi and hi-fi stuff and we got a really good mastering engineer to master it. On the whole it's like DIY hi-fi. We wanted that big sound but we had quite limited means to be able to get that. I think that's one of the great things about technologies. You don't have to wait around for a producer, you don't have to wait around for anything outside of the band to make stuff sound good. We're interested in that sonic side as much as the writing side of things.

How would you compare your new album to the previous one? How are they different?

It's different in loads of ways but in a way it's the same. The core message of what we sing about and the core reason for why we pick up a guitar, or play an instrument, or write a song in the first place is the same. The songs don't deviate that much from one pretty central theme.

What is the central theme for you guys?

I'll come on to that in a bit [laughs]. But sonically it's got to change otherwise it'd be boring. Like, bands have to become brands to have this sound and I think that's pretty sad. Not everyone adheres to that obviously, I can imagine the pressures that you could possibly feel if you were successful with something. We've never had any massive level of success, we've never had huge budgets that put pressure on us to ensure it sounds or is a certain thing. It's just always been down to what instinctively we want to create and impulsively what we want to make. So we've had total freedom.

But there are certain things from the first album and second album that are meant to have worked together. Like the second one's a proper sequel. If you hear the first one and get into it, listen to the lyrics and the way it goes from the first track to the ninth track, and then the way the next album starts, you'll see there's a continuity there.

Will there also be continuity in the third album?

We've not made it yet [laughs] so I don't know what that will be like. But sonically the second is very different. The first one, Blake's artwork sums up the differences really nicely. It's quite earthy. It's called The Fireflow Trade which is a subtle nod to the, kind of like Panthalassa when the world was just one massive landmass. That's Pangea and the ocean was Panthalassa. And long before man was around the continents drifted and that tectonic plate shift, that was what got me thinking about the fireflow trade, which is like the flow from man to life.

There's this beautiful quote that goes like 'the world is one country and mankind its citizens'. I totally agree with that, that's the only way to view the state of the planet at the minute where man has got to in evolution. So that album is kind of a muddled way of exploring that idea and is quite earthy. The album cover has the three hands on it each holding a different element set on the backdrop of the sea. And then the new one is like, you kind of zoom right out and it's meant to be a bit more other-worldly and epic and certainly more psychedelic. The sounds do the same thing, the sounds are more out there.

Is that the kind of theme that you represent in your albums?

Yeah totally. That's that one theme really, the fact that there's a spiritual dynamic to a lot of the problems there are in the world and how we deal with that.

I know you and Pete (aka THE PETEBOX) are brothers, did you make up the core of the band first before the others arrived on the scene?

Yeah there were us two and a guy called Ben who's still a good mate. He's a visual artist now. We did literally go swimming at Vicky baths [in Sneinton before it got knocked down] on Saturdays and then in the afternoon generally we'd get together and make music. We'd record the sounds of water and we'd kind of blend the sounds and the sounds of field recordings. We were really into electronica and he was getting me into loads of interesting electronic music. And mine and Pete's background, the bands we'd been in before were totally guitar driven and song led. And so it was like just meeting the two, then we made our first EP.

That first EP was a total experiment. I listened back to it recently – I hadn't heard it in ages – and I thought 'there's a lot of good ideas in that'. You could really hear that it was the first ideas of what Swimming ended up becoming. Some of that stuff stands up on its own anyway, particularly the more ambient stuff. Then we started writing songs and became a proper band. I kind of stopped doing Swimming and joined a different band and toured with them for the best part of a year and a half, which was sweet, but it meant I couldn't do Swimming. So I left them to keep doing Swimming then we wrote the first album and that came out in 2009. That's when Blake joined the band, then that's when we kind of felt that Swimming was a proper band.

I'm guessing you all met in Nottingham, swimming around in Vicky baths maybe?

No we all went to school together. Blake and Andy were in Peter's year at school, so I ended up in a band with my brother's mates. And Jonathan was the year above us at school but we didn't know him. It was only 'cause I started working at a studio where he was a technical manager that we were like, 'aw you can come play guitar in our band and you can do stuff that I can't dream of doing, like make your guitar sound like synthesisers and that sort of thing' [laughs].

So how did you come to sing?

I sang as a kid but then I totally went off the idea of singing. Singing's a weird one because it's so personal. It's your voice, it's not like an instrument which has its own qualities about it or anything. It's as direct an expression you can get without mastering an instrument I think. And I was listening to a combination of singers back then. I love the sound of H.R's vocals and the way he sings in Bad Brains – I know that might come across as a weird reference to people who know our music – but the way he sings is frickin' unreal. And a lot of soul singers as well like Terry Callier and a lot of that stuff.

Is that who you'd say your influences are?

No, only in terms of singing.

And what about generally?

To be honest it's more like the stuff I was talking about earlier. That's the reason why you'd pick up a song. I listen to pretty much electronic music, I don't listen to much guitar music anymore. I used to love it so that's still in there, like bands like the Pixies, they were a big influence, and Sonic Youth were a big influence… Showing my age a little bit here [laughs]. But they were who I listened to, like Melvins and Nirvana.

I was into American alternative guitar music and post rock bands. So that was on the one hand but then on the other hand I loved music like Aphex Twin, Oval and some European electronic music. And then the Flaming Lips and TV on the Radio are two of my favourite bands. If we ever get compared to people they're the ones that I go 'yesss' at. We don't necessarily sound like them but I think we're similar in terms of the approach and the blending of the instruments, and the 'anything goes' kind of attitude that they have, like they're not fixed at all to a specific sound or genre or anything like that. I think we share quite a lot in common with TV on the Radio and Flaming Lips. They're obviously amazing bands so I don't really want to compare ourselves at all but in terms of approach that's the kind of ball park we're in…

That's cool. I've heard you've had interest from Film4 recently, what's been happening?

Film4 picked up one of our tracks… It was quite humbling to hear it over some of my favourite British films. Four Lions was on there.

Which track is this?

One called I Do off the new album. So that was pretty cool.

Congrats are in order then! That was brilliant, thanks for chatting John.

INTERVIEW ENDS.

We have featured SWIMMING as our artist of the month. To hear tracks from their latest album check out our New Music Podcasts here, and for live reviews of the band click here for our blog.

Find out more about SWIMMING's brand new album HERE. And then go buy it!

If you want to see your music in the next New Music Podcast send us your demos! More info can be found on our FAQ page.

For all the latest Nusic news join our Nusic Facebook Page.