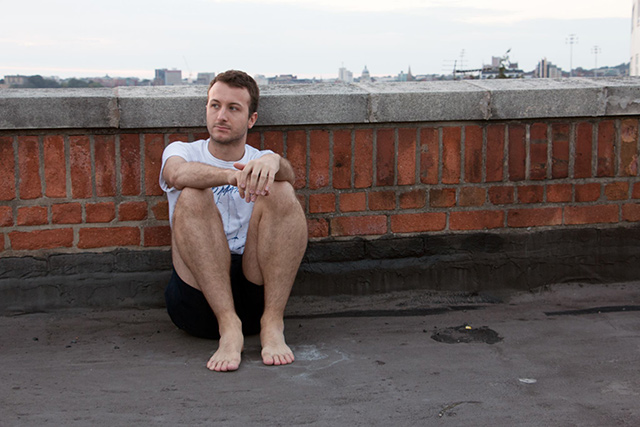 GEORGE GADD. Photo Credit: Unknown
Oh, Nottingham. I love you but you don't half hit us with too much in one go. This week there is not one, but three EP launches all in the space of two days. You're gonna have to be running from The Bodega, the Rock City Basement and back quite a few times this weekend.
FRIDAY
GEORGE GADD is having a party at The Bodega on Friday to celebrate his sorta recent (if you class Jan as recent) EP release 'Better Shape.' He sounds a bit like a proper Notts Frank Turner, with even more catchyness. And apparently he really likes kebabs, so ya know, good guy.
ELLIE KEEGAN will be returning home from Liverpool to perform her looped Acoustic Pop. The Mansfield gal is currently studying at LIPA (fancy). She's just released her debut single 'Heat.' You won't be able to stop yourself singing along to the 'ayay ayaaaay' (ya know what I mean).
KATE AUBURN's beautifully delicate Acoustic Folk voice might sound familiar. As well as playing loads of solo gigs over the years, you may have heard her old band HEARTS. Kate's also recently featured on a track with THE FLAVELLS.
Plus, 'secret guests' (aka the worst kept secret ever) THE BREAKFAST CLUB will be getting together for their last ever show together.
The Bodega
Friday 19th May
Doors: 7pm
Entry: £5.75
SATURDAY
JOSEPH KNIGHT is releasing his second EP 'Rediscover' at The Bodega on Saturday. The EP was produced by and also features his pal, LOWRIE. Their incredible harmonies go together better than bread and butter. Their joint songwriting is definitely a tearjerker. Imagine how cryable their individual song-writing is and times by two. Prepare to arm yourselves with waterproof mascara and a shit ton of tissues.
ELANA is no stranger to The Bodega, having recently supported Victoria there. ELANA's haunting vocals leave rooms enchanted. Her voice grabbed the attention of Nina Nesbitt in 2015, which led Nina to choose her to support her at one of her shows.
MATT HUMPHRIES strong vocal and almost aggressive (in a good way) acoustic guitar playing will move the room from being on the verge of tears to getting you dancing with some funky Acoustic Pop. Be set for a roller-coaster of emotions.
CHLOE RODGERS left us all in awe at her future session recording last week with her incredible vocals and flawless performances. You might have heard her voice on an advert for your fave biscuit company, Oreo.
The Bodega
Saturday 20th May,
Doors: 7pm
Entry: £5.75 adv, £7 otd
SATURDAY
HARKEN are celebrating the release of their much-anticipated debut EP 'A Feeling of Uncertainty'. The band formed back in 2015, making Post Hardcore Alternative Rock which packs a punch filled to the brim with passion and emotion, that you can help but harken to (Get it? Funny lol.).
Support comes from MANNEQUIN. The band have been making psychedelic, grunge punk rock for a good few years now with a chemistry that allows each of the band members' skills to shine. We're waiting for some new music from the band, so fingers crossed we'll hear some at Rock City.
SUPER FURNITURE have been some right busy bees recently. Last weekend saw them play INFL's MaraFUN on Saturday day, headline The Bodega on Saturday evening and then absolutely smash their performance as special guests for FSN2017 at Rock City. Let's hope they've got enough energy left to headbang the life outta the basement.
Chasing Cadence from Hertfordshire will also be playing.
The Rock City Basement
Saturday 20th May
Doors: 6pm
Entry: £6 adv, £8 otd
Yours in Love of New Music,
Katie Beard x