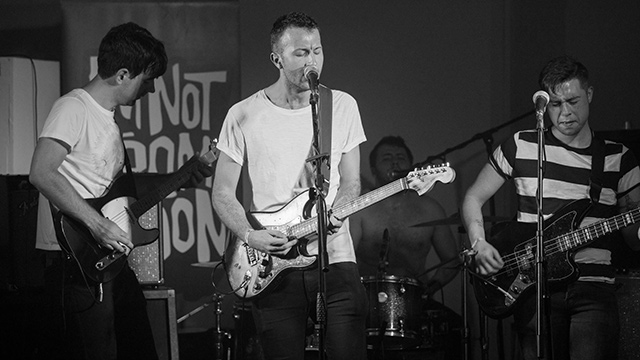 LITTLE BRIBES. Photo Credit: Mace Maclean
This week sees an EP launch party, a celebration of awesome women, plus a proper eclectic musician showcase. And it's a bit warm outside too. Yay.
TUESDAY
Kicking off the week is Confetti's new music night held at ye olde ship The Bodega, it's all run by the live and technical events students and features some of Confetti's freshest talent. The last one was such a success they've come back for another one! Headlining the affair is LITTLE BRIBES, a kind of Punk, kind of Post-Hardcore outfit, fronted by GEORGE GADD, that are sure to get you moving in ways you didn't know possible. After a bonkers 2016 doing a headline tour all over the UK, they've been tucked away in the studio for a while and are psyched to get some new material out there in the world. And they're sure to set off a party too!
Support comes from some of Confetti's finest. Including the stunning Singer-Songwriter sounds of BETH JOWETT, some proper in your face Alt-Rock vibes courtesy of THE SMALL PRINT, plus drums… lots and lots of drums from LUKE HALLAM.
The Bodega
Tuesday 21st March
Price: Free
Doors: 7pm
SATURDAY
I'm really sorry to say that you're gonna have to choose between two really really great gigs. There's no getting away from the linear way that time works, annoyingly.
At the Contemporary, they are marking the end of International Women's month (which should really be every month shouldn't it) with a fabulous female showcase full of incredibly talented women. The indescribable Chai Larden from London will be headlining (I really can't describe her). Preceding that will be the honey sweet I AM STARZ – this girl has such an incredibly unique voice – I'm going to describe her sound as Atmos-Pop, but with R&B tinges. Also performing will be ONKAUR; having released 'First Run' EP last year, she has been a little quiet on the originals front so it'll be ace to see her with some new material. With soulful vocals that meander around, then cut up chatter in a kind of Kate Nash style, then the smoothest R&B with echoes of Stevie Wonder, this woman has everything.
Following her up is the uber talented CHLOE RODGERS, winner of Notts Factor 2016, with a delicious blend of Pop and Folk. She sounds a bit like Corinne Bailey Rae, but a proper Notts version. KELSEY SHAW is up next, and believe us – she has the voice of an angel. With songs that have a brilliant open and resonant sound to them, she also walks the Pop Folk line, with some songs that tinkle along in the Folk like manner, to some more upbeat Poppier ones with Florence and the Machine sounds underpinning it all.
Nottingham Contemporary
Saturday 25th March
Price: Free Entry
Doors: 8pm
SATURDAY
CAMERON SINCLAIR-HARRIS is having his long awaited EP launch at his favourite venue, The Chameleon, and it's set to be a stonker of a night. Describing himself on the event as a 'professional string breaker', which is very true but also underselling himself horrendously so I'll do it for him. If you didn't catch his FS then absolutely do. With songs ranging from heartbreak to how the government fucking sucks, his vocals go from meek to bold and brash and his guitar work, well, as previously mentioned, is guitar breaking. You'll cry, you'll get angry, you'll feel a lot of emotions, in a great way.
Supporting is GEORGE GADD (you lucky thing, you get to see him twice in one week). With sweet guitar melodies and soaring vocals, you'll feel fully uplifted after watching this here dude. He also has a song called 'Milhouse' which is probably a Simpsons reference which is just great. He recently released his 'Better Shape' EP which is a real stand up collection of songs, from Indie Punk to swooning acoustic tinklers.
PUTIN AND THE DOLPHIN will come along with their ukelele and guitar and make us all really happy with their charming songs. Angelic voices that fit together like pieces of a puzzle, they are like a Notts version of First Aid Kit, and they're best friends which is so so lovely. They'll bring a smile to your face and make you wanna hug someone… maybe bring someone to hug.
FRAZER QUINN is coming all the way from Long Eaton, with Blues and Folk sounds to soothe your soul. He has bluesy material galore, from the Dylan-esque Blues-Folk sound, to the classic subject matters of the genre.
I really don't know how you're going to choose, maybe get a livestream set up at one of them?
The Chameleon
Saturday 25th March
Price: £3
Doors: 7pm
Yours in Love of New Music,
Alice Robbins x