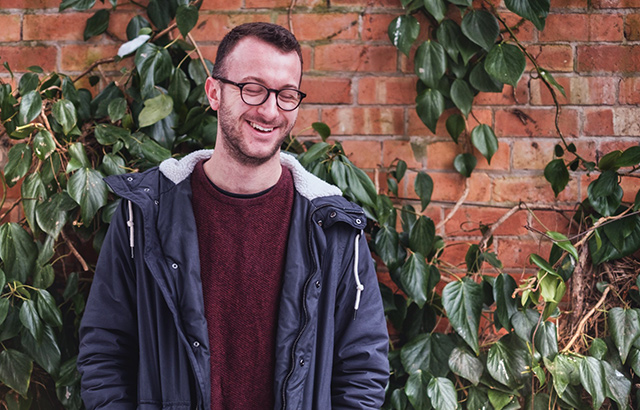 GEORGE GADD. Photo Credit: Unknown.
Pop-rock, saxophones and a royal wedding charity bash with crying folk rockstars. Just another normal week in Notts. x
THURSDAY
Nottingham's premier time-tellers, THE HALF EIGHT are back for their first headline gig in quite some time – and they're bringing all the guitar-pop bangers with 'em. If you're unfamiliar, the 08:30's have a lil bit of everything you love (and pretend to hate, but secretly love) about bands like Busted / McFly / Scouting for Girls. Proper catchy tunes. Amazing hair. And all round good vibes. Hopefully, they'll start their set at half eight too and we can all be v satisfied that happened.
Supporting are THE MOCKING JAYS, another group of humans that write a damn catchy chorus. Sometimes an artists own description does the best job, so I'll leave you with theirs – "a unique sound that combines the joys and heartaches of life into a magical carpet ride of Sexy, Funky, Dirty, Pop."
Thursday 17th May
Rough Trade
Price: free, but ya need to reserve tickets.
Doors: 7pm.
FRIDAY
Damn You! And Gringo Records are teaming up to bring ya a beast of a lineup at The Maze this Friday. 
First up are SLUMB PARTY – riotous Post-Punk born from several fine Notts bands (White Finger / Punish the Atom). They're an incredibly engaging live band, whether it's frontman Joey's stunning on-stage persona, or the way the whole band come together to make music that is somehow equally chaotic and dance-able at the same time. Plus there's sax, and who doesn't love a good bit of sax?
And headlining we have the magnificent musicians that are GREY HAIRS. Powerful. Intense. Mystical. It's always an incredible experience seeing them live. Whether it's the wall of sound, the dual vocals, or just their stage presence. In that vibey main room, it's gonna be tense. The best kind of tense.
Friday 18th May
The Maze
Price: £6 adv
Doors: 8pm
SATURDAY
So, err, ya know how those famous royal types are getting married this week? Yeah, well, more importantly – it's a Notts musicians birthday. Mr GEORGE GADD's. And to celebrate the joyous occasion of his birthday twinning with a slightly famous wedding, he's throwing a massive charity bash at Rough Trade, all raising money for Framework and The Friary.
Kicking things off is BILL KERRY III whose one-liner is 'The King of Kimberley'. Strong one-liner Bill, strong one-liner. He makes traditional Folk songs with kazoos. What else could ya need for a party? Next up is that GEORGE GADD fella, with his band. His humble FB event says he might cry, but we're sure that'll be cos he's doing something so AWESOME. Amirite George? Amirite?
THE SHRIVES take to the stage next with their anthemic Punk-y Rock and Roll. With catchy hooks for days, some of the coolest outfits your eyeballs have seen, plus an air of rockstarisms, they're gonna tear that stage up. Well, not literally, but ya know, you'll love it. And then there are THE DANDYLIONS. Bright pink and yellow spandex, humongous glam-rock choruses, and probs some free sweeties too. If these guys don't get you in a good mood, you're probs a right miserable bastard. Or allergic to spandex and E numbers.
Saturday 19th May
Rough Trade
Price: £5adv, £7 otd.
Doors: 7pm
Yours in Love of New Music,
Sam Nahirny x