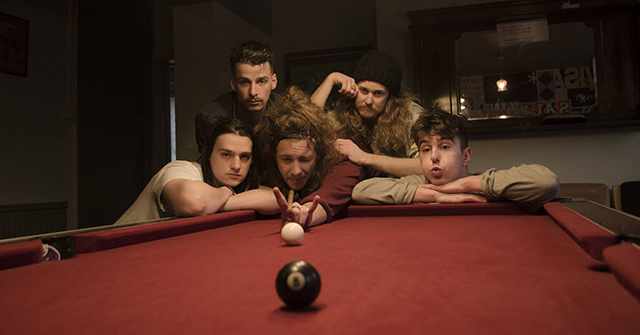 SOFT GIRLS AND BOYS CLUB. Photo Credit: Unknown
A fierce battle, some anthemic Pop-Rock goodness, plus majestic homosapiens. Here we goooo… x
TUESDAY
This week sees the return of the annual NTU vs Confetti 'Ultimate Battle of the Bands'. Now, BOTB's can be a bit lame sometimes, but tbf this one's actually pretty ace. With artists generally falling somewhere on the Rock / Indie spectrum, and competing for some sick prizes too, it's always a fun one. And it's in the Trent SU, which is a pretty sweeeet venue too.
From NTU: RE TEU, THE FRANTICS, KATHARSIS and ECHO CHAMBERS.
From Confetti: BUCARRA, NEAR MRS, VELVET BLUSH and MARVIN'S REVENGE.
And, it's free. And what else ya gonna do on a Tuesday… ay?
Tuesday 19th March
Nottingham Trent Students Union
Price: free
Doors: 730pm
FRIDAY
THE HALF EIGHT dropped a new EP a few weeks ago, full of tunes that would not sound out of place alongside The Vamps at Motorpoint Arena. So, to celebrate, they're throwing a party at the (slightly smaller) Rough Trade. Full of woah-ohs (you know the ones), guitar bits that are annoyingly catchy (the ones you sing along to, as well as the words), plus, ya know, lyrics about that love thing we can all relate to. Their live shows are always a blissful madness.
Supporting is the Pop angel that is HOLLY FALLON. Having just dropped an EP herself – Holly's got together a back catalogue of proper Electro-Pop bangers. Ya know, the kind that Dua Lipa would sing and end up getting an overplayed number one hit with. That – but less annoying. Anyways you can see them on stage at RT before she's mega famous.
Also supporting is Bronnie from Caldy.
Friday 22nd March
Rough Trade Nottingham
Price: £4
Doors: 7pm
SATURDAY
The Psych-y, majestic homosapiens in SOFT GIRLS AND BOYS CLUB are releasing their new EP this week – and to celebrate they're throwing a lil party shindig down at The Bodega. Full of big riffs, soaring melodies, plus some pretty beaut harmonies, this lot are well special. If ya haven't heard 'em, peep their Future Session HERE.
Supporting are VEGA BAY and JIMI MACK. The former, are a bunch of gentlemen who are very very good at writing an annoyingly catchy Pop-Rock tune. The latter, a human full of heart-warming, wise Folk tales and intricate acoustic guitar playing. Ahh.
Saturday 23rd March
The Bodega
Price: £5.50
Doors: 7pm
Yours in Love of New Music,
Sam Nahirny x
PS – There's even more Notts live music awesomeness than usual this week. Including a bunch of single launches. We tried our hardest to be objective and fair, and think that EP launches + 8 Notts artists for free won over single launches. But ya should just go to all of them and have a week long Notts musical bender. x