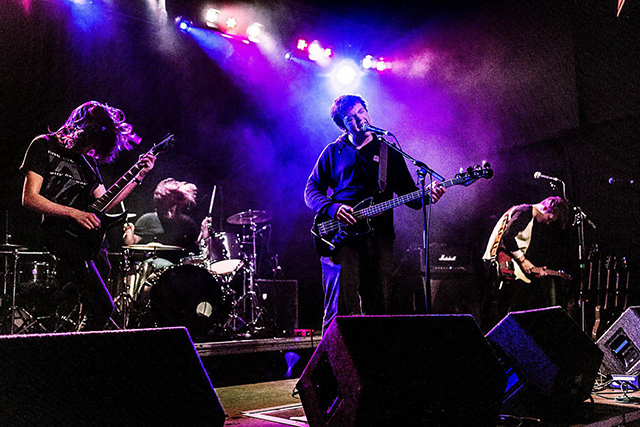 CLONK! Photo Credit: Unknown
Two charity gigs and some nutshells. Another bliss week in Notts x
TUESDAY
Ahh the legendary Notts in a Nutshell – where many of your fav Notts artists played their first gigs. This week they've got another banging lineup. Who's on it? Let us tell ya.
Starting proceedings we have the Acoustic-Pop bliss of BILLY REYNOLDS. Super catchy. Super slick. And… proper funny too, he's always a pleasure to catch live. Then the Indie-Poppers in THE HEADSPACE are up – and let us tell ya, dayummm do they know how to write a catchy hook. Lead single 'Can't Be Friends' is a proper ear-worm. Ending the night we have the gents in FADING BLONDE, having just played Rescue Rooms main stage supporting DON'T FORGET RUPERT, these guys are basically seasoned pros now. Come have a bop to their swish Indie-Rock vibes.
The Voques from Scunthorpe are also playing.
Tuesday 11th September
The Maze
Price: £3
Doors: 730pm
THURSDAY
This Thursday a bunch of ace Notts bands are coming together at Rough Trade to raise money for VSO.
Kicking things off we have the Grunge-y goodness of UNIFIED ROOTS. Distortion and aggression bottled up in a three-piece Punk-y package. Following we have the brilliantly named THE JELLYFISH ARE COMING, also bringing the Punk-y vibes, so make sure you're ready to get a good lil mosh on. YOUTH HOTEL are up next, bringing all the jangly happy goodness you could ever ask for. Then, VANITY BOX take to the stage full of their anthemic Indie guitar anthems. Oh, and then topping it all off we have the melt-your-face off Psych-Rock of CLONK!. Remember your ear plugs, kids (cos ear health is important)!
Marvin's Revenge from Derby are also playing.
Thursday 13th September
Rough Trade Nottingham
Price: £5 (profits go to VSO)
Doors: 7pm
FRIDAY
The Nottingham Hellfire Harlots are a roller derby league based in Notts. This Friday – to raise some dollar, they're putting on a fundraiser gig at The Maze. It's a proper tasty lineup, with all acts celebrating female and queer artists.
Acoustic-wise RACHAEL WEBSTER and CHLOE RODGERS will be bringing all the beaut chill vibes your ears have been desiring after your loooooong week. And once you're all zenned out, you can get amped the fuck up again with full band sets from TOWERS, BOSS MAGNET and SIRENITY.
Friday 14th September
The Maze
Price: £5
Doors: 630pm
Yours in Love of New Music,
Sam Nahirny x