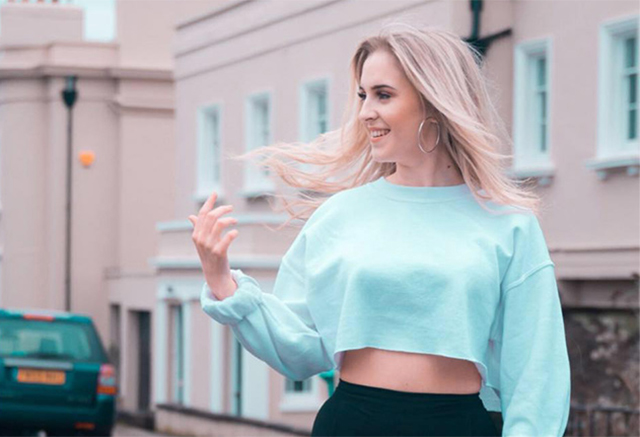 HOLLY FALLON. Photo Credit: Sam Nahirny
Some heavenly Folk, an excuse to get pissed and help charity, plus EDM meets Indie anthems. Another week of awesomeness for ya, yo. x
TUESDAY
GALLERY 47 is all over The Chameleon's stage this Tuesday, and he's bringing a bunch of awesome singer-songwriters with him for the ride.
First up we have the Folk-y Blues-y goodness of FRAZER STANKO. What a name. Such power. STANKO. With a name that powerful, you can imagine his tunes also make quite the impression. Next up we have the blissful Acoustic-Pop sounds of HOLLY FALLON. Despite not being in her twenties yet, Hol has already nailed the art of a mega catchy chorus. Prepare your tabs. And then there's SANJEE ANAND – another human who is pretty damn sick at the whole catchy Pop chorus shindig. Paired with some excellent guitar playing. It's quite the three yano.
Oh, and then GALLERY 47. A an absolute gem of a soul, who happens to play some rather special Lo-Fi Folk. With band now – you can expect poetic tales as well as some very lovely tones from Jack's rather beaut voice.
Tuesday 14th August
The Chameleon
Doors: 730pm
Price: free
SATURDAY
Nahh, I can't believe its been a year since the last Waterfront. What happened to Easter? Has Easter happened? It doesn't feel like Easter happened. WATERFRONT IS BACK. One of Notts' finest festivals, bringing together shit tons of Notts musicians, across three stages – and all for charity. Yes, you can get absolutely battered, and feel good about it too. Dreamy.
Headlining the three stages this year (Notts wise) are…
LEFTLION STAGE – The bad-ass blow your face off Rock of TOWERS. Female fronted badassery that'll destroy your eardrums in the most enjoyable way.  GIGANTIC STAGE – The blissfully mental SLUMB PARTY. Chaotic guitars, sax and a sprinkling of weird but wonderful melodies from frontman Joey. UNDER THE TREE STAGE – KALEIDO – a very new band, that describe themselves as 'genreless'. We've been told they're very good. So, they're basically like a Wilkos pick n mix, but you know it's gonna be full of banging candy.
Full lineup HERE.
Saturday 18th August
Canalhouse Bar
Price: £7.70 adv
Doors: 1230pm
SUNDAY
Faction is back for it's 43rd edition (yurrrrp, 43rd, whaaat?) at Rough Trade this Sunday. Free as always, and brings a bunch of awesomeness to your eyes and ears.
CAMMIE ROBINSON – who has been absolutely KILLING IT in the EDM space – being featured left right and centre in massive publications and on mega Spotify playlists. We're mad intrigued to see how she takes this live setup on. Will it be a subtle Acoustic set? Or will she get the T-Shirt cannons out? Who knows. It'll be sick either way.
Then there's THE SHRIVES – Princes of that dayummm catchy Indie chorus. They're close to becoming a Nottingham meme the amount of times we hear random people shout "I WANNA BE YOUR MONEY MAKER', but ya know, that's not a bad thing cos it just means loadsa people are loving their tunes. Pair that with a super charismatic live performance. And you'll be chuffed to bits.
HOLLY FALLON is back less than a week later, bringing all them things we said about 300 words ago. Beaut melodies. Awesome choruses. Booooooommmm.
Rascalton from Glasgow are also playing.
Sunday 19th August
Rough Trade Nottingham
Doors: 3pm
Price: free
Yours in Love of New Music,
Sam Nahirny x