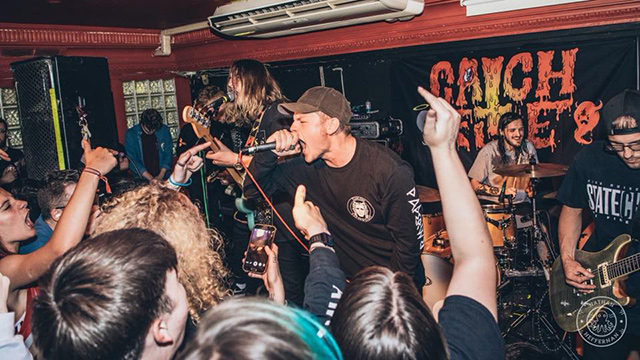 CATCH FIRE. Photo Credit: Nathan Heffernan
Flying kicks, EP launches in cool clothing stores, and exclusive album preview parties. Ooh. x
MONDAY
HAGGARD CAT – the duo that fry your brains with mental guitars, headbangs, and pitch-flexing vocals are back in Notts after touring all over the shop. And they're bringing all that aforementioned madness to the good old ship Bodega. Almost every live performance these guys have done has ended with someone going 'nahh they're not doing that'. In a good way obvs. So, all we'll say – is watch out for flying kicks and mic cables. Pls.
Monday 5th November
The Bodega
Doors: 7pm
Price: £8.80
THURSDAY
I love writing this sentence – VANDULL is back, he has a new EP, it's his birthday, and to celebrate all of those tings, he's throwing a party at Mimm. Boom. The genius wordsmith who boshes out mad quality tracks like nobody's business – has recorded over 40 tunes this year with some of Notts' finest producers, so this EP is being released to raise funds for visuals for a bunch of em. Well, that and he's recorded some banging shit he wants to share with the world. Plus, who doesn't love a limited edition CD?
Thursday 8th November
Mimm Store
Doors: 1pm
Price: free
SUNDAY
Next week CATCH FIRE launch their debut album 'Komaloh'. And from what we've heard of it so far, it's sounding like a monster. But, ya know, the good kinda monster you want in your life… like the BFG or something like that. Pop-Punk at its finest, these guys have the genre NAILED – incredible musicianship, and songs for dayyyyys. This time though – as its essentially a 'pre-launch listening party', they're doing an exclusive acoustic set. AND you can get the album before anyone else. VIP vibes. Boo. Yah.
Sunday 11th November
Rough Trade Nottingham
Doors: 1pm
Price: £10 (includes copy of album)
Yours in Love of New Music,
Sam Nahirny x