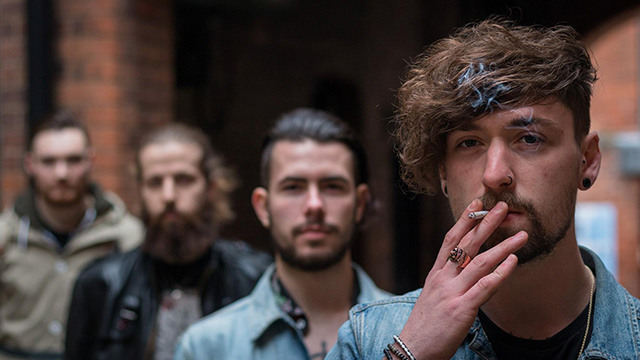 DON'T FORGET RUPERT. Photo Credit: Unknown
James Bond baddies, two-day festivals, and an opportunity to call up your mate Rupert. Another blissful week in Notts. x
FRIDAY
Four bands. Four quid. Four dollops of dopamine for that pretty brain of yours. That's what ya can expect at The Maze this Friday.
Kicking off the night is the jangly happy Indie-Guitar-Pop of YOUTH HOTEL. Super duper catchy. Like, the, you sing along to the guitar line and then you realise you're actually singing an instrument sound and you're like 'huh?' but its so good you don't care. Yeah, that. THEN – its UMI. A collab between Jay Umpriz, Nik Ivanov, and Mekajinn who blend Punk, Blues and Hip-Hop into a well British concoction. Next up – BLUE VULTURE – a band that'll have ya feeling anything other than blue (haha *tumbleweed*). Swish melodies, some mad catchy riffs, and a charismatic frontman – what more can ya ask for? At the top of the bill – DEF GOLDBLUM. Not a James Bond villain, in fact a sick Notts fusion of ear-thrashing Rock and old school Hip-Hop. Get your mosh on, duck.
The Maze
Friday 10th August
Doors: 830pm
Price: £4 otd
SATURDAY
If you have a mate called Rupert (doesn't everybody?), make sure you text him now, cos this Saturday DON'T FORGET RUPERT take over Rescue Rooms, and you know you wanna be that guy / gal that said they didn't forget Rupert.
Shit jokes aside – DFR are well good. Anthemic Alt-Rock, with a dashing of beaut Pop melodies. Just listen to lead single 'The Past is a Dangerous Place'. It'll make ya wanna get your shitty guitar out your parents attic, pretend you remember more than three chords, and scream 'ONE NIIIIGHT' at the top of your lungs. Will probs make you get a new haircut too.
Support comes from THE MOCKING JAYS and FADING BLONDE. The former, also bring humongous sugary sweet melodies, full of blissful guitars. The latter, are not a bunch of balding blonde dudes, but in fact a brand new band – four gents making Alt-Pop-Rock glistening with gritty guitars. Ahh guitars, dontcha love 'em?
Rescue Rooms
Saturday 11th August
Doors: 630pm
Price: £6.60 adv
SATURDAY AND SUNDAY
Melodica Festival returns to Notts this weekend – bringing together a bunch of songwriters and musicians from all over the world. And, obvs, most importantly – a bunch of awesome Notts musicians too.
They're at Rough Trade on Saturday, and Jam Cafe on Sunday. Sat brings you the haunting, majestic sounds of KETO and the Quirk-Pop of EMILY FRANKLIN. There's also the beautiful sounds of THE GIRL AND THE STONE, plus the v unique Folk-Rock of ALTA PUEBLO.
Then, on Sunday – not only do you get to hear them beaut sounds from KETO again, but you also get the foot-stomping Bluesy goodness of 94 GUNSHIPS, the sultry sounds of STACEY MCMULLEN's Folk, plus the pleasant return of WE SHOW UP ON RADAR – who Huw Stephens described as 'a thing of beauty'. Tasty lil lineup for nowt, init?
Yours in Love of New Music,
Sam Nahirny x