SPREADING THE LOVE has been our theme for twenty twelve and October especially.

We explained in our earlier Editorial how important it is for us all to get behind DOG IS DEAD, JAKE BUGG and NATALIE DUNCAN. How it is in everyone's interests for those artists to succeed.

THE PRIZES – One lucky winner will win a PERSONALISED SIGNED album from each of JAKE BUGG, DOG IS DEAD and NATALIE DUNCAN. This means the artists will write a brief message of your choice on the album e.g. "Dear Auntie Mabel, Keep it real, JB." Pretty cool right?

HOW TO WIN –

– Take a photo of yourself (and friends, family, pets ) with one of the below:
+ Our October Banners*
+ Any advert/ banner/ billboard for DOG IS DEAD, JAKE BUGG or NATALIE DUNCAN .
+ Proof of order or pre-order for DOG IS DEAD, JAKE BUGG or NATALIE DUNCAN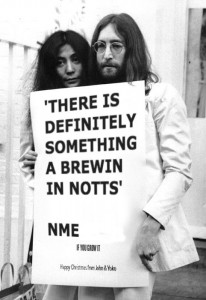 – Post that photo online.

– Tag us so we can see it (either on facebook where our page is called 'Nusic.org.uk – 100% New, Notts Music' or twitter where our tag is @FeelTheNusic). We have found twitter to be more reliable.

– All names will be put in a hat and a winner picked at random.

WINNER WILL BE – Notified within 24 hours of the Sunday 21st Oct 11.59pm deadline. We will DM you via the social media platform you posted your photo on. STOP PRESS – deadline extended to Thursday 25th Oct 6pm to include pictures with any Nottingham artist.

*The banners and car park posters around town proclaiming how amazing Nottingham's music scene is, like THESE.

RULES/ NOTES

– Anyone who entered the first Spread The Love Comp is welcome to enter again BUT it must be with a new image.
– No limit on how many times you enter but each photo must be different.
– We'll operate this just like a professional broadcaster would so no members of the Nusic team or their family can win, they're obviously welcome to Spread The Love! In addition no member of any of our supporters can win (but again they can spread the love) – Leftlion, DHP, Confetti, NCC's Comms Team & One Nottingham.
– Please remember the spirit here, we're trying to help our musicians, if we've missed something we apologise in advance!
---