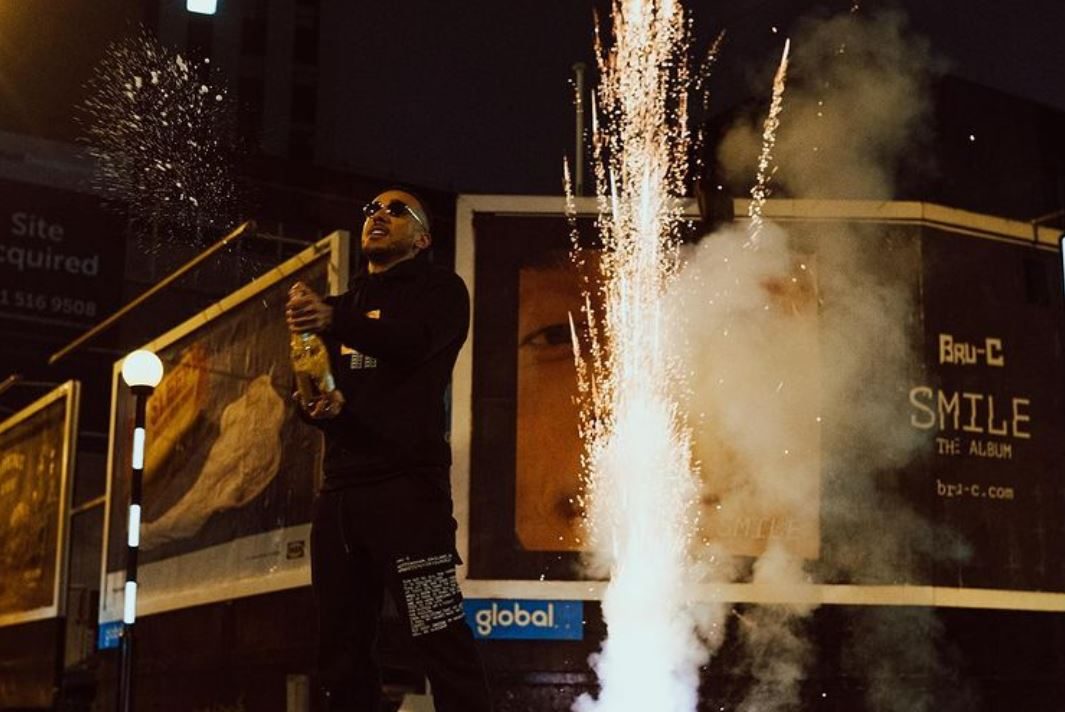 If you're wondering why there were fireworks at midnight – it's because the man who already has 40 million streams on his first album, just released his second.
'Smile' is out with a bang (literally); with millions of listens on its already released tracks, no.1 on iTunes album pre-order, and some humongous features. This record is a shabang of tunes, from poignant drum n bass, thru to big boy bassline. Whilst all touching on some important topics surrounding mental health. 
Opener, 'Smile', inspiring the title of the album itself, sets the tone. With an incredibly catchy hook featuring some beaut vocals from Paige Eliza and stunning production from Shapes (who is responsible for a lot of this album) this track is an anthem for the record. It touches upon overcoming mental health struggles and putting a focus on the positives. And that's the part of the theme of this album – songs that musically wouldn't feel out of place at Printworks, whilst lyrically touching on everything from human struggle, thru to bolognaise. 
Next tune 'Full Time Raver', featuring Zero and Double L, is one of the raviest songs on the album (who would have guessed?). With a wub-wub bassline and first-class bars, this track is seriously good. It leaves you vyin for Bubblin' amongst a disgustingly sweaty crowd with a red stripe in tow. I'm pretty sure that's what we all need right now. 
One of the standouts to this album is the three voice recordings scattered throughout. Not only heart meltingly sweet, these reveal the struggles Bru-C has had with his mental health that many will be able to identify with. They are unfiltered, moving and caring, showcasing the kind of supportive network that is important in our lives. Through these and the lyrics surrounding mental health featured in tracks such as 'Raindrops', which features stunning vocals from Jade Kelly, and 'Sometimes', Bru-C has allowed these topics to be touched upon in a completely different light, showing his audience that it's NORMAL to go through this stuff, and having the people you love around you is crucial. 
'Introspective', featuring Chris Lorenzo, was released back in May in the peak of UK lockdown. This track shines a light on the things we can be doing to make ourselves feel a little better in the current uncertain times we are living. Covering taking time and self-love all amongst a drum n bass belter. You should probs set this as your alarm clock.
We have to mention 'Energy', don't we? I mean, when you've got features from Example and Jamie Duggan, it's almost rude not to. The build for this track is huge, and the drops even more so. Then 'Volkswagen' with Devilman and Mr Traumatik has us reminiscing of two-stepping in Colwick Park at Detonate with a tonne of people wearing bucket hats (do we reckon COVID has ended the bucket hats? 2021?) This is a proper dnb anthem, with an absolute class bassline. 
The album closes perfectly with 'Cardio'. Previously released, this track is already pretty close to one mil streams, so speaking objectively – it's banging. Bru-C's verses on this track flow perfectly with the bassline and Charlie P's vocals are the sweet honey that tie all together. And what makes it even more perfect is that the voice note before its play has Cass singing a sick rendition of the track. 
Overall this album makes us soooo excited to go out and get sweaty in all our favourite Notts venues. But most importantly, it highlights mental health in such a crucial way. With the current state of the world, looking after our mind is even more important and Bru-C sets such a stunning example to his audience. The way 'Smile' manages to contrast rave anthems you wanna skank to under the deepest topics is unique, experimental and just overall impressive. 
Big up Bru-C.

Yours in Love of New Music
Katie Lyle x
---