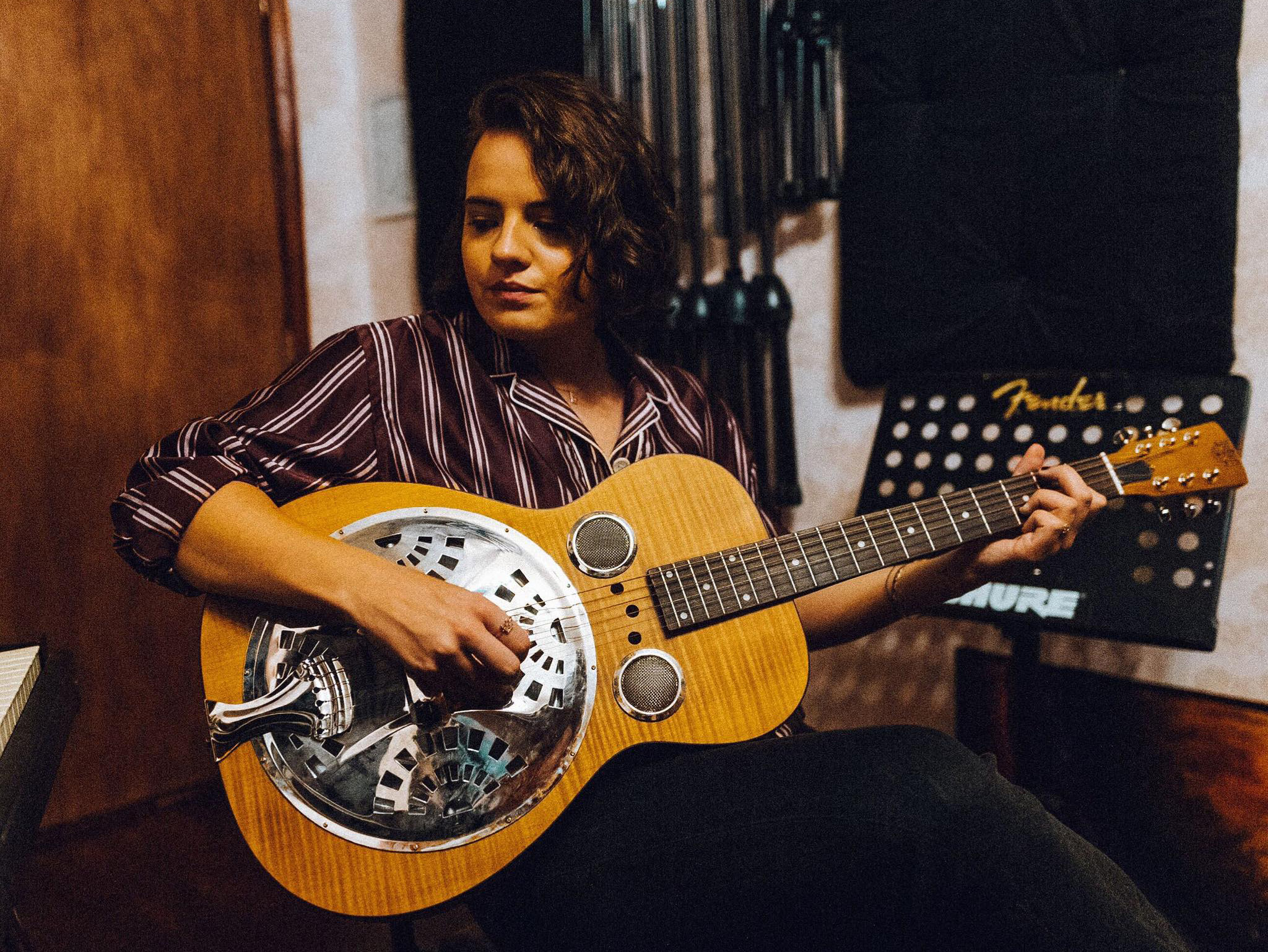 Such a treasured NG artist, and such a long awaited record. Georgie has been all over the globe,  touring with megastars like Jake Bugg, Blossoms and Tom Walker. So, it's kinda mad this is only her debut studio album.
Luckily – 'Stay Home' is a remarkable debut album. 
Georgie had already given us a taster with "Chasing Kites". The only track recorded outside of her home, this track manages to be optimistic melodically yet lyrically describes heartbreak in such a fierce way.
Now, I have to be honest, when I first listened to 'Stay Home', I was having a bit of an off day. And then the 'bleeding obvious' fairy knocked at my door – and I was like 'ahh'. Turns out – Georgie didn't just lay down and relax on a comfy studio sofa – she wrote, recorded and produced this whole album, in her home, during lockdown (excluding Chasing Kites). You wouldn't be able to tell that this wasn't made in Rick Rubin's studio.
Even though this album is only eight tracks, we have to remember that Georgie has made this entire record in a global pandemic. They offer a fantastic dynamic between happy and sad, love and loss and all things Georgie. 
This album has us reminiscing of falling in love, breaking up, loneliness and everything in between. Topics that 97.4% of Sneinton can relate to. The lyrics are vivid, the bridges are emotional and the harmonies are stunning.
'Company' soulfully opens the album. Melodic, sassy and refined, this song has us dreaming of sunny afternoons walking around Sneinton market, and it feels like the perfect tone to start this album off with. 
'Unrequited love' is definitely a personal favourite of mine. It takes a turn from the happy and in love to heartache and regret. This song portrays sadness and pain, with a somewhat upbeat and dare we say fun feeling? This song feels like a fresh breakup. It feels confident on the outside, yet the lyrics reveal hurt and vulnerability.  
'Now We're Lonely' has the sweet luscious vocal melodies we know Georgie so well for. This track really throws you into the feeling of losing someone you love and the loneliness that comes with it, whilst at the same time being a beautiful, catchy and pretty positive song. It's hard to understand how Georgie manages this dynamic throughout. The music is confident and powerful whilst the lyrics are completely unguarded. 
'Stay Home' presents a perfect balance of highs and lows besides significant life lessons and experiences from Professor Georgie. It beautifully communicates growth and learning to love yourself before anyone else. It's raw. It's stunning. 
And, it's perfectly Georgie. 
Yours in Love of New Music,
Katie Lyle x
---