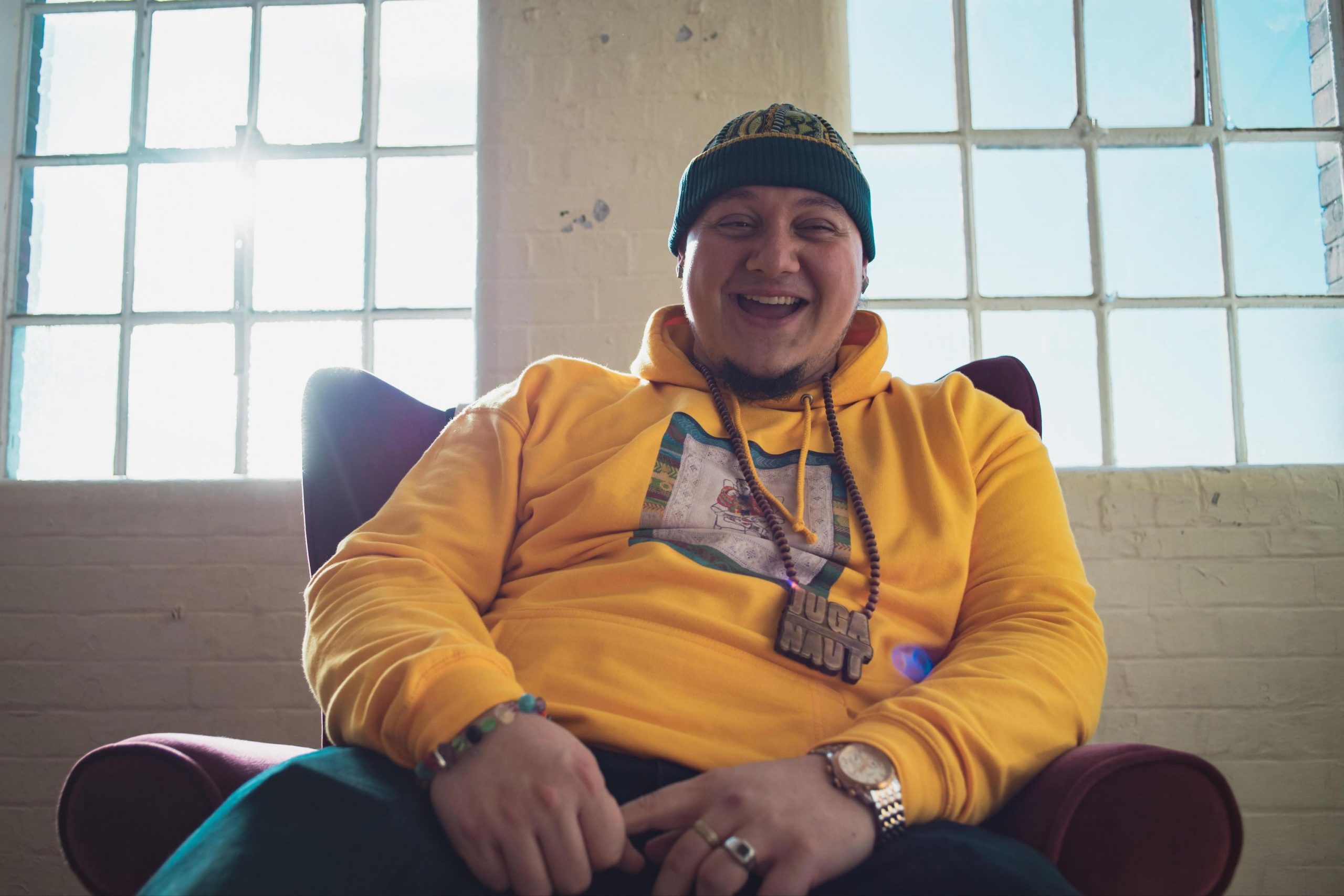 Photo Credit: Matej Rehulek
JUGA-NAUT's latest album '12 Bricks' is here, a collaboration with Michael Parknsun (Parky) on production. We had a chat with Jugz himself to find out more about how this album came to be and spoke all about the best thing on Earth. Notts, obvs.
You and Parky collaborated back in 2017 for EP '6 Bricks', how long has '12 bricks' been in the works? 
We did 6 bricks quite quickly, over a couple of weeks, then we put that out. Everything on 12 bricks was actually recorded between 2016 and 2018, so it's actually been stashed for a little while. It just seemed like the right time at the moment because we have both been doing a lot of stuff, to keep the momentum going.
What's the story behind the album? 
Parky was sending beats over originally when we did 6 bricks and we got on together as people. He has been in the UK hip hop scene for a long time, he has produced a lot of people and he rap's himself. But with me he was like ''oh my god you're my new favourite rapper'' and it went from there. We gelled, became friends and it just worked. He kept sending me stuff and was like we might as well do an album, so we went 6-12 and it just came together naturally. I was quite picky. He sent me a lot of beats and I wanted to wait for the right ones that really worked for me. If it doesn't spark me off within the first few second's I'm not gonna force it. But with this we just made it work and the way it came together was great. 
 What's your favourite track on the album? 
I like 'Gaudi Gang'. That's me, Cappo and Vandal Savage. We had a crew called Triple V and we've got some albums together. That track works really well, it's the energy and the hooks. I like the intro ('Blue Notes') like you mentioned in the review, it's like an anthem for Nottingham. The thing is I've got quite an international following, I've got a lot of fans in the States and around Europe so it's good to put the city on the map in that way. It's been put on the map loads before and there's a rich history and culture of hip hop in Nottingham.
Is there anything else on the album that you would say references Notts? 
Yeah, there's loads of stuff! On the song 'Stained Glass' there's a few bars towards the end of the song where I'm talking about places in Nottingham, because I grew up in New Basford. I talk about St Anns to Radford to Meadows and it's just about seeing people I haven't seen for a long time cause it's a small city. It's weird because you might dip in and out of town or whatever, but I always end up seeing 20 people and a person I might not have seen for 15 years. It's just such a small city. So, for people who know Notts there's certain things in the album where people go 'oh shit? That really makes sense to me.' There's quite a lot of Nottingham in there.
What have you been up to over lockdown? 
I continued working but I took a bit of time because everyone's in the same position. I didn't feel too creative at the beginning, it was kind of like, is the world gonna end or not? Cause if it's not then I can get my head into trying to see what the hell's going on. This position that everyone's in at the moment, it's about life, not money for me. It might have hit my pocket, but it doesn't matter as long as we can save some people's lives and keep people safe, that's what it's about.
I just took time to delve into myself a bit more. That's what I think a lot of people are doing. Looking into yourself and seeing what really matters. I think a lot of people were working 9-5's that they didn't like and have realised what the hell am I doing? I don't actually have to do this. You don't need loads of money. And you don't need to have a fucking car you can't afford.
Tell us more about your cooking and Chef Jugz. 
Music is my full time and cheffing, it brings money in, but I love to do it. They are both my passions. I have been doing it for about 5 years. I worked for a few other people and then I saw how the food business works and thought, I can do this for myself. I was doing pop up restaurants in Notts and doing deliveries online. Obviously with this stuff going on right now you can't really do it and there's other things I've got planned in the future. It's like the two things go hand in hand, (music and food) they're both art, they're both creative. They both make people happy in the same kinda way. 
Favourite Notts artists right now. 
One of my favourite Notts artists is LONE. It's crazy because he's a fan of mine as well which is always a beautiful thing, that mutual back and forth. My other favourites are CAPPO and VANDAL SAVAFE who I've worked with. I like SNOWY. There's a bunch of people man. There's a lot of energy from the city. It's such a small city with so much talent. Big up everyone doing their thing.
Do you have more music coming out soon or anything exciting planned? You've already released 2 albums this year which is crazy.  
That's the thing, it's hard with the era we are in. Artists in the past would do something maybe once a year but because of YouTube and streaming music's so much more disposable and I'm trying to build it up and keep it going. With 12 Bricks, the vinyl is coming out at the end of the month on a label from Italy called Tuff Kong, they've done some stuff before and they are really great people. There's a music video coming out for 'Been Away' ft. Liam Bailey from Bem and that's going to be amazing. Michael Holyk that did it and he's amazing. 
I've got about six albums finished, so, over the next couple of years I've got lots set up. It's just constant, constant, constant. 
Yours in Love of New Music,
Katie Lyle x
---