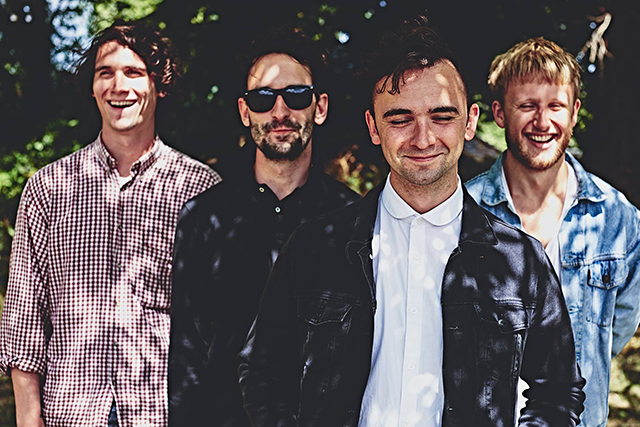 THREE GIRL RHUMBA. Photo Credit: Unknown.
Remember how we mentioned last week Notts music being good for the soul? Well – this week, even more so, as we've got two A W E S O M E lineups full of Notts music, all in the name of charity, plus a banging new festival dedicated to all things Electronic. Ahh, happy souls.
WEDNESDAY
This Wednesday sees 'The Big Live Summer' take over The Level (part of NTSU) for a night full of ace Notts bands – all for Teenage Cancer Trust.
The brilliantly named EVERYTHING RHYMES WITH PURPLE kick things off with their Jazzy brilliance. A bit funkeh – these fellas know how to get a groove oooonnnn. #FSN2016 champs SUPER FURNITURE are up next with their near impossible to describe Alt-Rock. If ya like slick melodies and rocking out, these are your guys. PAPER SHOP DAVE then take to the stage with their classic Indie stylings. Swagger, sick riffs and some very catchy choruses – that's what ya should be expecting. ONE GIANT CAUSEWAY follow with their riff-tastic Indie-Rock. Their latest single 'Last Night' is HUGE, and ya should listen on the NMP HERE. JOSEPH KNIGHT then takes to the stage (we assume, with band) to serenade us all with his soulful singer-songwriter stylings. His new songs sounded ace at Waterfront Festival a few weeks back! Finally, fresh from smashing it at Reading and Leeds – the massive sounds of TUSK will be headlining. Truly epic – check out their Future Session to get an idea of what to expect.
The Level, NTSU,
Wednesday 31st August,
Doors: 7pm
Price: £4 student, £5 general
FRIDAY
There's a brand new festival taking over the streets of Hoodtown this Friday, and it's all about showing the Electronic genres some loving. It's called Broadfest, and brings together a load of promoters and venues in Hockley for one extended evening of awesomeness. Ya can see the full listings HERE, here's a few things to keep your eye out for…
I'm Not From London are taking over Brewdog, and are bringing a ton of live Electro-awesomeness with them. You'll find the beautiful madness of luchador duo REVENGE OF CALCULON headlining, as well as live performances from synth-king SJBRAVO, Multi-talented local legend LOWRIE as well as plenty of other ace bands.
Clash Money also have a ton of ace live acts to check out in between their rap battles. From STAN [Crook Education] to SPACE CITY and loads in between, there's a little something for everyone. And that pretty much describes the festival in one – whether you're a bass head, a grime fan, or you like a bit of a electro-band boogie, considering it's free – you've got no excuse not to get yersen down!
Multiple venues,
Friday 2nd September,
Doors: 6pm
Price: Free
SATURDAY
If you're more into your guitars, you'll be happy to know that Macmillan Fest is back to satisfy your riff cravings. And – if the name didn't give it away, it's all for charity too – Macmillan, funnily enough. They're across a bunch of different stages this year, so we're gonna touch on the Notts headliner of each stage…
In the Rock City basement you'll find the incredible sounds of EVA PLAYS DEAD. Ironically – despite having the action 'play dead' in their name, you'll find yourself doing the complete opposite. They're made to have you moshing about all over the place with their high-octane tunes, and, we guarantee you'll have plenty of riff envy too.
After all the moshing, you will need a little step away from the intense side of things – EYRE LLEW are perfect for that. In fact, they may have you go the complete opposite way, and end up in this beautiful trance of inner peace and zen. Maybe – either way they're playing Rescue Rooms, and as always will deliver some stunning Ambient sounds.
JUST JAMES are over on the Stealth stage, ready to bring the Electro-Rock party. It's been a year since they last played a live show, so they've got plenty of pent up live frustration (and awesomeness) to let out on you lovely crowd folk. Bass, riffs, and some pretty sick bars from MOTORMOUF too. It's bound to be a special reunion.
THREE GIRL RHUMBA are headlining the Leftlion stage at Red Rooms with their funky Alt-Rock. Despite the name – they're not three girls who have a passion for dancing, in fact, they're four gentlemen who know their way around a catchy melody. They ooze catchiness in fact… oh, not in that way, as in they ooze the kinda thing you wanna sing in the shower every morning.
THE RUFFS headline Rescue Rooms acoustic stage with their gritty Rock n Roll sounds. Swaggerful, and pretty damn good at getting the crowd involved too, Connor Spray and co are the perfect accompaniment to a nice, cold… water. Remember – responsible drinking boys and girls. Go and have a sing song!
Finally – headlining Spanky Van Dykes are HELLO TOMORROW, the Pop-Punkers who will have you jumping up and down like you're at a Blink-182 concert. Since winning Noise From the Next Generation back in 2014, they've gone from strength to strength, and have an ace new EP out there now. Ya can have a listen to one of the songs HERE.
Multiple Venues,
Saturday 4th September,
Doors: 1pm
Price: £15 advance,
Yours in Love of New Music,
Sam Nahirny x