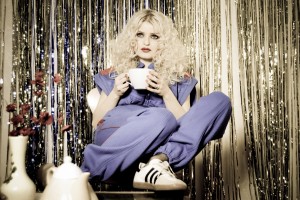 There's one female solo artist we love who is long overdue her imminent success. There's no one more ready, more destined for that Notts Number One than self-confessed music nerd RONIKA. She's got the style, the charm, and the catchy groovy tunes that keep those gloomy Autumn clouds away. This current heatwave is no coincidence! Here she tells Mary Ann Pickford all about her love for music…

So you're a Notts girl through and through right?
I am, born and bred. Notts produce!

Do you have any favourites places in Nottingham?
I love Lee Rosy's tea shop, it's run by my brother. I love the Alley Café too, they do good veggie food there.

How did you start up your career as a musician?
I think it's been a gradual thing. I started by writing songs on the guitar, some soulful stuff inspired by people like Curtis Mayfield and Sly Stone, then I decided to learn how to produce my own tracks. I was really into that side of things. I loved hip hop and also quite experimental people like Squarepusher and I wanted to be able to make my own beats. So I went and studied sound engineering and music. Then I started making my own tracks 'cause I think for me the song and the vocals is just part of it, I like to have the vision for the whole track and the whole song.

So with a bit of that hip hop background how did you come into fusing pop and a bit of soul?
Well I've kind of been into every kind of music. I'm a bit of a music nerd/fanatic and I've had a big love for hip hop and a big love for disco, soul, funk, and pop music runs through it all for me. I always love a good tune and people like Michael Jackson and Madonna, and just loving ultimate pop music like that.

Would you say they're your big inspirations?
Yeah massively, I think Madonna's probably one of my favourite female pop artists. Early Madonna especially. I think she shows people how it's done. She just writes amazing tunes as well. She's still writing great music.

How do you come up with your songs then?
I think it can be from anything, like inspired from listening to music or getting an idea from lyrics or reading- I read a lot, reading books gives me ideas. Or just writing something on the guitar, or starting off a beat, it could be anything. There's always a passion there, I can't stop doing it, I just have to keep making music otherwise I feel like- I don't feel happy.

Do you ever have times when you're struggling to get your creativity going?
Yeah I find lyrics harder to write than the music. So sometimes I can get really stuck on lyrics for quite a while and I'm quite picky, you may not have got that from the songs! But then I just go and look at other people's lyrics and read books but nowadays I just keep going with it. Thankfully if I get stuck on something I'll start something else, I don't let myself sit around for months with writer's block.

If you weren't making music then what would you be doing?
Well before I was doing my own music I was working as a sound engineer – I know that's still in music – but something perhaps more to do with sound or video. I'm quite a techy person so I'd probably be on the other side of things like that.

So when you were a child was that the kind of thing you wanted to grow up to be?
No it was more like, I wanted to grow up to be a singer or musician, but then when I really got into music in my teens I just wanted to be involved in the whole making of the track, and that's what led me to the techy side. I'm not naturally techy at all but if you want to be able to produce your own music you have to learn all the gear and everything. So now that's become very much a part of what I do. But I was never like, 'I want to be able to use compressors' as a ten-year-old!

I thought you might have said something typical like a vet or something…
Well, I think I've always been a bit style obsessed. I remember at school when I was a kid we had to do a thing where people were saying 'what do you wanna be when you're older' and everyone would say, 'I wanna be a doctor!' or, 'I wanna be a racing car driver!'. But I put 'I wanna be a hippie or a punk'. So I think I'd always been a little fashion or music conscious…

Haha, I think your style now suits you better than if you were a punk!
Definitely always been a poser in my head that's for sure [laughs].

So then what do you think of Nottingham's music scene at the moment?
It's amazing, I think it's about to explode really – I mean, it already has. There's so many good people across all the genres. It's just massively exciting.

Do you have any favourites?
I do yeah, there's so many. The people I've worked with have been SWIMMING, JOE BUDDHA, CITIZEN and favourite artists from Nottingham would be people like LONE and LATE OF THE PIER. People that I love who are amazing female artists are NINA SMITH, HARLEIGHBLU, NATALIE DUNCAN, MARITA who's working with KIRK SPENCER, an amazing producer… I really don't want to forget anyone! There's just too many. There's PETEBOX and 8MM ORCHESTRA who are my live band. Nottingham's just got such a beautiful intimate music scene where everybody supports each other.

It's great isn't it! On a different note, congrats on your Only Only video premiering on NME. How's that feel?
It's brilliant yeah, it's nice for it to have such a great home. It was fun to make. Me and Jon from SWIMMING made the video and so it was a very DIY labour of love project. I wanted to reference videos by people like Afrika Bambaata and get the sort of cutting edge 80s technology across in the video [laughs].

Are all your videos home made?
Well Forget Yourself I made and Wiyoo as well. Yes so it's all quite DIY except for In the City. That was actually made by CITIZEN who's also produced the track. He's an amazing video producer.

That one featuring all the robotic dancing is amazing.
Aw thanks! Forget Yourself is quite a feel good groove and I knew I wanted it to have some good footage in it, so I was basically trawling the internet and I came across a 1981 robotics convention full of robotics nerds, and I felt I could relate to them quite heavily…! Obviously it looked amazing so I thought, 'yeah, I need to use it'. And I think it fits the song really well. I'm a big fan of robotics and body popping and all that.

Is that what you do when you go out, bust out all your moves?
I wish I could! In fact if I could probably develop any skill I think that would be the most useful in life!

So what do you like to do to wind down or to chill?
Well I like to read, and watch movies and I host meditation nights with my friends, and I like to eat a lot… [laughs].

What's your ultimate plan for world domination?
Well it would be great just to be able to make music that people like. My main thing is that I like to make feel good music, I want to make music that people can put on and feel good to and have a dance to, and I want to make pop songs that everyone can sing along to as well. That's the music I lean towards. I love to listen to party tunes so if I can keep making music like that that people like then I'd be happy. Cool tunes that people want to put on their mix tapes…

Seems like you're already there. Thanks Ronika, we're looking forward to hearing more new tracks on the new EP!

INTERVIEW ENDS.

RONIKA is our artist of the month. Check out tracks from her on both our September podcasts and watch her two new videos, all our Nusic Facebook Page.

If you want to see your music in the next New Music Podcast send us your demos! More info can be found on our FAQ page.
---