In 2008 we asked the masterminds behind Dot To Dot Festival how many local bands would be playing the Nottingham leg of the festival… their answer? Two. This year there were no fewer than 27 Nottinghamshire bands/artists repping our city. Obviously without cloning technology or some sort of time travelling device it would be impossible to catch all of them playing the festival, however I managed to catch 11 local heroes and heres how it unfolded…

THE BARNUM MESERVE

Dripping wet from queueing at the wristband exchange in the great British weather, we hustled into the Rock City Basement to catch THE BARNUM MESERVE. Despite a fairly early set time of 1.30 pm the Basement is packed with fans eagely awaiting to catch a glimpse of the band that have bagged a slot at this years SPLENDOUR and been blowing minds at shows across the country. The massive piano ballads through the excessive smoke machines make the whole experience beautifully haunting. The screaming vocals with anthemic military like drumming pulses around the basement like a giant throbbing heartbeat. The first time I've managed to catch this band live but it definitely won't be the last.

BITTER STRINGS

Quick hurry round the corner in the miserable weather to catch the set of BITTER STRINGS downstairs at Stealth. Three piece Rock n Roll outfit BITTER STRINGS have been grafting away at the Nottingham scene for a while now brushing shoulders with the likes of ONE NIGHT ONLY on the Rescue Rooms stage and a gig lined up to support THE VIEW later this month. Walking into Stealth sober at two in the afternoon is a surreal experience and the room appears to be sparse, however the moment BITTER STRINGS take to the stage the floor immediately fills. Their unabashed jive machine combo of 60s slick Rock n Roll with a northern soul twist is effortlessly cool. Alex Turner-esque vocals with grooveladen bass and lead interchanges that are insanely infectious. Don't underestimate this band and get yourself to a gig soon.

KAGOULE

Now fifteen minutes to leg it across town to see the band that have been a huge part of my music listening life since they sent us a demo late last year. KAGOULE have charmed the Nottingham music scene with their scarily good live performances across the city. The youngest band to ever play the Rock City Main Stage thanks to a Nusic competition back in December have recently experienced air time on XFM. Throw into the mix a mention in NME and it is obvious there is a fair amount of hype about this young three piece.

Believe the hype.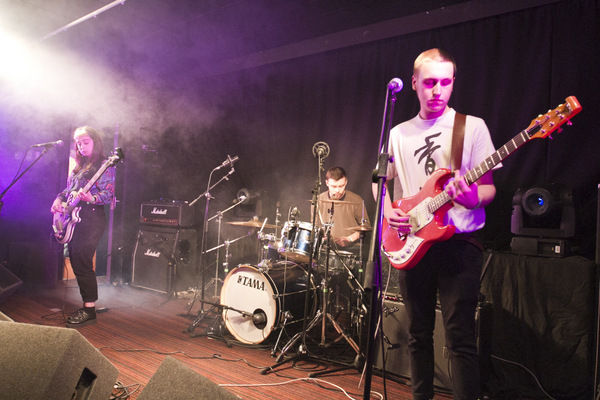 Velvety vulnerable vocals with a heavy grunge aura around them conjures up whiffs of NIRVANA and SONIC YOUTH. Their signature song Made Of Concrete is surely going to be playing on radios, ipods, and dj sets across the nation in the very near future as a result of the pure quality of the tune. A beautifully crafted melody with a poignantly pained feeling lost somewhere between the dark lyrics and aching vocals. The classy setting of Jongleurs adds to the quality oozing out of the stage with the velvet curtains and candlelit chandeliers adding to the experience. The beauty of this three piece is the various journeys each song takes you on. From the dark grunge of Into The Sea to the pounding drumbeat of Monarchy. Not forgetting the mystery track that I am yet to learn the name of, but according to my scribbled notes: "I want this to be the soundtrack to my life." Lawrence's drumming has flourished into a fully accomplised sound over the last few months and despite some slippery drumsticks during the set this almost adds to the character of the confident band. I'm willing to bet any reader that these lot will be a household name in the next two years…make me an offer. Watch our Future Session with them HERE.

HOT JAPANESE GIRL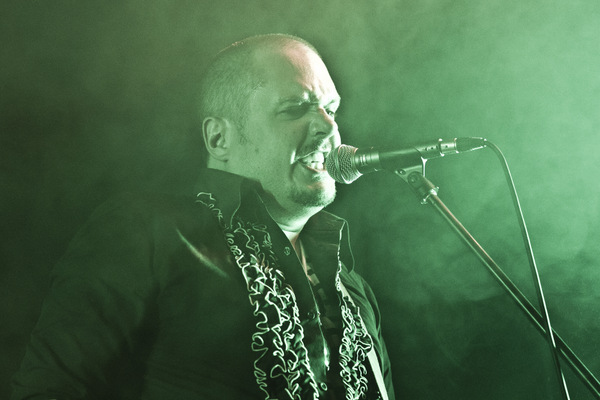 Hilarity Rock Monsters HOT JAPANESE GIRL take to the stage with an array of red skinny jeans, questionable hair cuts and an air or awesomeness about them. Their savage EP "Bear Shark Laser Tiger Fight", is laid bare in this set and kicked around with joyous brutality. Imagine you've died, gone to hell and are now having a brilliant night partying in hell. Ali Powers looks like he could be Satan's sidekick with his intimidating good voice, piercing glare and is that…eyeliner? The first mini mosh pits of the day break out amongst a few fiery fans and beer is spilt amongst a mess of shoving and smiling. The raucous shouty anthem of Frankie sparks names in the brain such as BILLY TALENT with its party punk fiesta vibe. A bastard child of the I'm Not From London institution this band have the signature streak of notoriety and famously good live performances under their belt. Gutted they missed out on our Future Sound of Nottingham Final, I still haven't taken off the T-shirt I bought immediately after the set. Although its fairly awkward walking past an ACTUAL hot japanese girl in town now.

THE PETEBOX

Quick jog home to prep the hip flask (don't tell anyone) and its a dash back to Rock City for THE PETEBOX. Debut album Future Loops has been on serious rotation recently at Nusic HQ and jogging up the Rock City steps I can feel the atmosphere of excitement pulsing around the great room. Unusually I am particularly excited to witness some of the covers PETEBOX has to offer and he doesn't disappoint.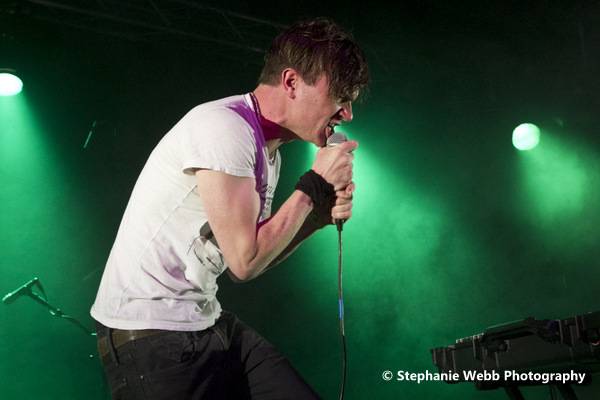 Opening with a bass heavy interpretation of BENNI BENASSI's Satisfaction before mixing into the EURYTHMICS disco classic Sweet Dreams. THE PETEBOX doesn't rely on covers though, as his self engineered material is seriously impressive and even more so live. Ironically lost in the moment of V.O.D.K.A it is important not to forget the unique process for building these songs. No backing tracks. No backing band. This music is all made in the mouth of the PETEBOX and then looped until the final result is a precise layering of genius. Showcasing his talents in the various genres from Drum n Bass to bass heavy dub and most emphatically during his rendition of MGMT's Kids which introduces a guitar into the equation. If I was suddenly told I had 45 minutes left to live and I was going to spend it grooving to THE PETEBOX in Rock City I would be more than satisfied.

JAKE BUGG

Perhaps the most anticipated performance of the night was that of our lad JAKE BUGG. At the ripe old age of 18, Jake has already achieved things that many musicians can only dream of. Landing Zane Lowe's Record of the Week TWICE, appearing on National Television regularly thanks to an IPA advert and also nearly blowing off Jools Holland's toupé with his performance on Later Live. Fresh off the back of a successful European tour, this gig the air of a homecoming party to it – and party it was. JAKE BUGG's country folk is a huge breath of fresh air in what can be considered popular music. No autotuning, miming or illusions needed with JAKE BUGG which is often the case with much of the music in the charts. Just a young lad with his guitar, spreading his infectious tunes across the land and doing his home city proud. The fresh faced Dylan-esque young man is already half way to achieving a greatest hits album with the sheer amount of quality tunes. Choosing a favourite song is impossible. Trouble Town is anthemic and resonates emphatically with the Nottingham faithful. Lightning Bolt is upbeat, feel good and damn irrestible. The more mournful Country Song is drenched in emotion and nostalgia and although some have accused Jake of selling out with the IPA advert, I can't help but think this only adds to the meaning behind the tune. Old man sentimental folk from a boy who is only just old enough to buy a pint of IPA himself. Long after JAKE BUGG's set is done the crowd milling around outside Rock City are still drunkenly singing the choruses demonstrating how contagious this music is – I've caught the BUGG.

WILL BAILEY

Just over an hour to kill until DOG IS DEAD take to stage, so a short wander round to Acoustic Rooms to have a laugh along with WILL BAILEY. It may not seem like a compliment to say that I have never laughed so hard at a gig, but the ARSE FULL OF CHIPS' chief obviously has a cracking sense of humour. Songs about MICHAEL JACKSON being a weirdo and other hilarity tunes have the Acoustic Rooms punters in stiches and roaring back every punchline lyric. A conga/circle pit around the sofas and tables of the Rescue Rooms bar is surely a first and an obvious signal that this sort of music is impossible not to enjoy.

DOG IS DEAD

DOG IS DEAD have been flying the flag for Nottingham on the National and International gig circuit for months now. This appearance on the Rock City Main Stage their first in Nottingham since their headline gig in December alongside KAPPA GAMMA and KAGOULE. Anticipation, excitement and a sheer feel good vibe is pungent in the main room of Rock City. Packed to the rafters, with no space on the balcony or stairs and the pints flowing – this really does have a festival feel about it. The indie-stars strut on stage and look like they wouldn't rather be anyone else in the world than playing to a hometown of loyal fans. The fans don't disappoint, roaring back every lyric with a fiery pride. The new single Two Devils is lapped up by the fans and old favourites such as River Jordan and Young shake the old venue to the very core. As the intro of the Glockenspiel Song rings out around the room, the building seems to inhale with excitement as if it aware that the next few minutes are going to be a bouncing, roaring, indie pandemonium. Beer flying everywhere, strangers embracing and screaming the lyrics into each others faces: "We are a mess. We are failures. And We love it!" DOG IS DEAD are established indie-stars now and it is surely only a matter of time before their debut album is flying off the shelves.

JOSHUA KEOGH

Back to the trusty old Acoustic Rooms just in time to catch the end of JOSHUA KEOGH's set. This guy recently wowed us at a Future Session (watch HERE) with his moving music and poignantly pained lyrics. The feel good vibe of Dot to Dot Festival must have got under Mr KEOGH'S skin though as amongst his heartbreak beauties he throws in a cover WHITNEY HOUSTON'S Dance With Somebody. The smiles flourish around the room and a lot of drunken dancing is on show but who gives a toss? This is great fun.

INDIANA

The room was fairly busy for the JOSHUA KEOGH set but as INDIANA takes to the mic it seems everything else going on in Nottingham at that moment grinds to halt. Everyone in the room cranes their necks to catch a glimpse of the girl who has caused an absolute storm in the music industry since her introduction just under two months ago. Submitting a track in the last few minutes before our Future Sound of Nottingham entry deadline and baffling the judges with her raw talent – she rocketed to first place. Who is this girl? Why isn't she already massive? Surely she has a manager waiting somewhere behind the scenes and this is all tactics? No. Her first ever live performance was in the Market Square at around 5pm on 22nd of April. Rumours have been flying thick and fast about where INDIANA is heading, photos outside EMI circulating and Tweets about having landed one of the biggest managers in the world all add to the veil of mystery surrounding her. What is a fact however is that the head of Radio One has declared his love for INDIANA on his blog signalling an exciting future. Enough with the pre-ramble. A Mexican wave of jaw drops circles Acoustic Rooms the moment this girl unleashes her voice. The power of the beauty behind this voice is something that I have never experienced before. It has an effect on me that is new, pulling on heartstrings I didn't know existed and stirring memories that I thought I had forgotten. Blind As I Am is more than a song. It is like a drug. It intoxicates the heart and is unforgivingly addictive. If you are let to learn of the latest wonder of the Nottingham music scene then listen to her on the Podcast (so good we played it twice in one show!) You can also listen to her first ever interview after her first ever gig exclusively to Nusic HERE.

Fact of the day: Did you know that there is a place in the state of Indiana called Nottingham Township…?

NOISE REPUBLIC

Now this next band weren't strictly on the Dot To Dot line up but I think they epitomise what Nottingham is all about. Despite an absolute orgy of musical goodness happening across town, it is possible to wander into a pub and discover a wicked band by accident. For some reason I found myself at The Golden Fleece at around midnight headbanging to the four piece NOISE REPUBLIC as part of a routine I'M NOT FROM LONDON knees up. The distorted riffs and aggressive vocals oozing attitude complete the punkish rock band and a strange collection of strangers, drunkenly get to their feet to shout their approval.

What a day.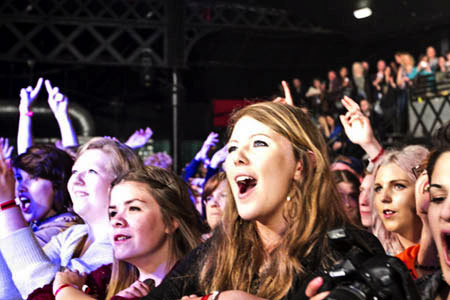 Yours In Love of New Music,
Tom Hadfield x

@hadfieldreckons

#spreadthelove

All photos courtesy of Stephanie Webb Photography
---