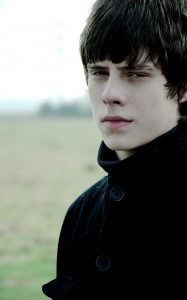 We've been telling you lot to keep your eyes peeled for JAKE BUGG and look what's happened! At just 17 years old Mercury Records honed in on his talent (as we did aaaages ago) and snapped him up. It's certainly no surprise to us, or his mum who predicted massive things in The People's Podcast back in December. There's no doubt we'll see him on his way to reaching that Notts Number One, but what else could the next few years hold in store? Mary Ann Pickford chats with Jake to find out…

What's life like as a signed artist?
It's very busy. I had an interview earlier for ThisIsLive. It all seems a bit hectic meeting all these new people, but it's exciting though as well.

What else have they got you doing?
I've been co-writing with a couple of people. I was co-writing with Iain Archer in London the other week and he's done a bit of stuff for Snow Patrol.

I've heard you've gotten a residency at Glee Club now, how did that come about?
I have yeah and that's on the last Friday of every month, so it starts next month in September. But I did a gig there in May supporting a band called Hooray for the Riff Raff, a duet from America, and my band got an encore after. The promoter said that was the first time he'd seen a support band get an encore…

That's amazing! So how was playing at Splendour this summer then?
I thought Splendour was a very good festival for one day, to be honest. I was the first act on at the courtyard stage where I played and it was packed out which Mark Del said doesn't happen very often at that time.

What was the biggest crowd you'd ever played to?
I don't know because after about five rows of people you don't really think about it.

Do you have any rituals you do before you go on stage?
I don't have anything I do, I just take it as it comes. But sometimes nerves can help you play better at the same time.

So what was filming the video for Someone Told Me like?
It felt natural, it didn't feel like the camera was even there. I was just recording on that day, just in the studio, but there was a camera there and I didn't even notice it. It was just cool. That's what you want, you just want to be natural or something like that.

A lot of people comment on how young you are, does that ever bother you?
I've seen a few comments in reviews saying that his age shouldn't matter which is nice to hear. Even though I'm young I've had people telling me I'm a 30-year-old trapped in a 17-year-old's body. It's a bit mad. I say I'm young but I listen to old music.

Who would you say are your influences then?
Oh there's loads. Oasis, Jimmy Hendrix, Beatles, Donovan are probably the main ones to be honest with you. I'd say THE SWIINES are an influence as well, my cousin's band, they're a Nottingham band. The singer in that is my cousin [Scott Bugg].

Are there any Notts acts who you think could go really far?
There's quite a few good ones but it's hard to tell. There's been a lot of attention coming to Nottingham so I hope they'll all do well. Like SPOTLIGHT KID, they played Glastonbury, and NINA SMITH's looking like she's got a lot of people talking about her so it'd be nice to see who gets there.

So if there's anyone from Nottingham that you could collaborate with who would it be?
Now that is a hard question, that is tough. I don't know, I'm quite easy, I'll work with anyone that seems interested. That's a hard question. There's just a lot of talent out there.

How did you first get into music?
I had no interest in it until I was about 12 years old. My uncle came round with a guitar and showed me a few chords then I started getting into all these different artists. I think the internet helped quite a lot to discover old artists…

So you've literally just been a musician for five years?
Yeah five years.

Wow, so when did you find out you could sing?
I don't know, I just kept singing and singing. But people at school, even though I liked different music to them, they always respected it. I just kept doing it and then people started liking my music, which was a bonus, so I carried on with it.

It came quite naturally to you then…
Well my mum and dad are musicians and I've got my cousin who's in THE SWIINES and a few family members who are into their music.

What does your family think about your recent success?
I'd like to think they're quite happy, but I'm just quite busy now so I don't see them as much, but I hope they're happy.

I'm sure they will be, Jake! How is work on your new album going?
That's due to come out next year but I haven't started recording yet. That should be done by Christmas time and it should be released by next spring.

What's in store for your fans with this one?
I like to swing from genre to genre with each song, I don't like to stick to one genre, I like to mix it up a bit. I think I've got about two album's worth but it's just deciding which tracks go on which album.

How do choosing songs to go on the album work now you're signed?
I think it's a fifty fifty where I pick a track and the label picks a track.

What would you like to achieve within the next ten years or so?
I guess to have a number one, but I wouldn't like just one number one. I'd rather have no number ones than one. I don't want to be just a one hit wonder. So it's just, in the next ten years I'd like to have released four albums. I'd like to do that.

What advice would you give to Notts artists trying to get their music out there?
I'd tell them to go to the BBC Introducing website and upload the tracks on there. I think that's one of the best ways at the minute to get your music out there and to get it heard.

Thanks for that Jake, good luck with recording for your new album!

Check out our JAKE BUGG New Music Podcast special for a couple of his tracks, or to see him live for yourself watch our Future Session from last year…


If you want to see your music in the next New Music Podcast send us your demos! More info can be found on our contact page.
---